As a psychotherapist, I help people transition from vulnerability or uncertainty to a more self-nurturing and meaningful place. I refer to it as 'becoming strong in the broken places.' This idea seems to give clients the courage to invest in their emotional wellbeing in a way they may never have done before. It gives them permission to value themselves and engage in self-encouragement rather than in self-criticism or feelings of not being good enough. It facilitates finding the strength to begin healing from whatever life has thrown at them.
The Hoffman Sandwich
When I feel clients are ready to explore their stories in a safe, professional, yet loving group environment, I consider introducing what I call 'The Hoffman Sandwich,' the bread being psychotherapy, either side of the Process filling. Over the years I've found that, far from detracting from my therapeutic work, Hoffman techniques enhance it greatly. When a Hoffman 'graduate' returns to me, it's so fulfilling to see how far they've come and how much they've grown.
The Process isn't psychotherapeutic per se, it's more a unique means of enhancing emotional literacy. People emerge from it much more self-aware, with a far greater emotional range as well as with effective techniques they can use. They return with a vocabulary and a way of speaking about their issues that we both understand, in the same way that two people who have watched the same film at different times may do.
Having experienced the Process first hand, I can recommend it to any fellow therapist as well as to clients, from a deep understanding of what it can achieve – yet I almost let it slip through my fingers.
My years of psychotherapy training required me to be in regular therapy myself so, when I contemplated the Process, I felt I was 'therapied out'. A little voice inside my head whispered 'I don't need Hoffman; I've done enough processing of my emotions to last nine cat lives.' Wrong! By the end of the first day on the Process I realised there were areas where I'd barely scratched the surface.
Hoffman was unique in the way it held me. I knew that anything I brought was welcomed and the skilled handling of emotion over a whole week meant I could search deep into the core of my being without fear of judgement or abandonment.
What took me to the Process – and what I brought back
Before I went to the Process, my relationship with my long-term partner, Alastair, had hit a rocky patch and, as much as we loved each other, our work-life balance had become unhealthily demanding. Even though I was a psychotherapist, I was part of the problem in this scenario, so I couldn't be an objective part of the solution.
Alastair and I participated in the course separately within months of each other (you can't attend as a couple) and afterwards we noticed our relationship became more harmonious. Our work-life balance certainly improved.
For my part, since doing Hoffman, I've stopped apologising for everything and (although It's a work in progress) I'm learning to say 'no' to people's demands upon my time. I've continued working as a psychotherapist and still run therapeutic workshops, but I've given up teaching academic classes, which has given me more time for fun.
For his part Alistair found the courage to leave the world of finance to become a certified Yin-Yoga teacher under the tutelage of Paul Grilley, a guru in the field of Yin Yoga. It's less lucrative but it gives him contentment and the space to do all the things he never dreamt he could.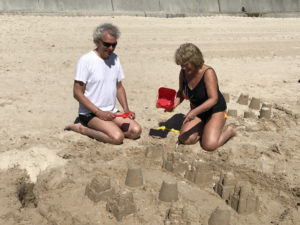 Alastair has now combined his love of music with his passion for yoga. He runs hugely popular musically-themed workshops where he creates soundtracks to complement yoga poses in a unique way. He's also taken up singing, and can't wait for his weekly lesson. The result? A much calmer atmosphere in our home where we have more space and time for each other. We've even begun to sing together – a huge behavioural stretch for me, needing all his encouragement and Hoffman-found patience! The Process has helped us to become more authentic and honest, which in turn has brought us closer.
We're also able to stay 'plugged in' by going to a wonderful post-Hoffman support group here in Jersey that a Hoffman graduate called Sara set up some years ago. It's a regular reminder of the tools we learned and has become a community that offers mutual support. Sharing is one of the most precious things that we can do, because it creates trust and so often that's what's missing in our 'broken places' and exactly what we need to mend.
Helping each other balance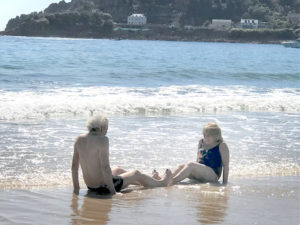 Alastair and I have been able to support each other's Process visions, by encouraging each other's continued emotional growth and development. For example, I found permitting myself to play and relax very difficult because, when I was growing up, my parents measured my worth by my work ethic and academic success. Play of any description was frowned upon. There's a whole day of play and creativity on the Hoffman course which I found really challenging, but oh so healing.
Now, Alastair encourages me to put down my work and have fun. Yes, FUN! When I'm tempted to immerse myself (martyr-like) in yet another item on my to-do-list, he'll gently persuade me to head for the beach. We'll make sandcastles or splash about in the water whilst stretching our bodies out till our toes touch and hold them there for as long as the waves allow, giggling like children. We call it 'doing toes' and I never imagined it would become part of our work life balance!
---
To read more about Marilyn's work, visit her website oakpracticetherapy.co.uk or Facebook page
To read more about Alastair's career change, click here, or see him in action on Facebook here
As Marilyn mentions, Hoffman graduates on Jersey who are interested in meeting up can do so via Sara Liddle's Jersey meetup group. For more info, click here.
How's your work/life balance? Take a fun quiz and gain some top tips compiled by Marilyn here.