Hoffman Process Price
The Hoffman Process fee is £2,950 (inc VAT)
We believe that the Process offers exceptional value for money, and our participants agree. When we surveyed the attendees of ten Hoffman Processes, more than 97% rated its value as 'good' or excellent.'
The cost of the Process is divided up as follows: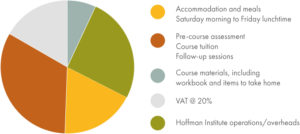 £530 Accommodation and meals from Saturday morning to Friday lunchtime
£963 Pre-course assessment, course tuition and follow-up sessions
£205 Course materials, including workbook and items to take away
£492 VAT @ 20%*
£760 Hoffman Institute operations/overheads
£2,950 Total
*If you or your business are VAT registered you can claim this back as a business expense.
 Your Process fee includes:
A one-to-one consultation call with a member of the Hoffman enrolment team
Comprehensive pre-course self-assessment materials and guidance from our enrolment team
Individual call from the Hoffman Process teacher who will be facilitating your course
All accommodation and beautifully prepared meals in our exclusive retreat centre
Over 100 hours of Hoffman Process tuition, course materials and support
Two Hoffman facilitated follow-up sessions within the first three months
Access to our dedicated Post Process website, featuring the Hoffman toolkit and exclusive downloads
How do I register?
If you would like to enrol onto a Process, please visit our Process Dates page and follow the instructions, or call the enrolment team on (+44)1903 889 990.  A deposit of £500 is due upon registration, with the balance payable four weeks prior to your Process date. Places are subject to course availability and early registration is advised.
If booking within 5 days of a Process start date, you must contact us to ensure that you have plenty of time to complete the pre-course work and consultation calls.
Please note that your place on any Process is not guaranteed until we have spoken with you about the course. If coming from overseas, please do not book any travel until we have had a chat and approved your enrolment form.
We highly recommend that you read our Booking Terms and Conditions and the additional information below before booking.
Our Bank Details
Our bank details are:
Name: Hoffman Institute UK Ltd
Account No: 46027858
Sort Code: 60 01 18
Bank: Nat West Bank, 57 High Street, Arundel, West Sussex, BN18 9ST
REFERENCE: Your name (Please put your full name for our reference, or we will not be able to reconcile your payment to you)
IBAN: GB66NWBK60011846027858
BIC CODE: NWBKGB2L
We will be in touch to confirm receipt of payment once we have received your funds.
If you're paying your deposit, please note that the remaining balance will be payable four weeks prior to your Process date. Please note that your place is not confirmed until we have checked course availability.
If you're coming from overseas, please do not book any flights until we have spoken to you and approved your enrolment form.
Wait List
If a Process is full, it is possible to be put on a wait list as long as you have already enroled with us, paid a deposit and booked a course date.
Wait list places are offered on a first come, first served basis, according to receipt of pre-course work. To be put onto the wait list, the following conditions must be met:
A standard deposit of £500 for a course with availability must have been received. Our normal terms and conditions apply
Documentation, including the enrollment form and (in some cases) pre-course work must have been completed, returned and acknowledged by us.
When a place becomes available on a full Process, we will offer the place to person who is the most prepared. On acceptance of the place, the full fee balance will be payable.
To see upcoming Process dates and availability, click here.
Early Bird Discount
You will save £50 if we receive your full payment by debit card or bank transfer 6 weeks prior to the start of your Process.
Unfortunately, we cannot apply it to credit card payments.
Bursaries
Hoffman has a long history of helping people who otherwise wouldn't be able to afford the full Process fees.
Any bursary awarded can only be a percentage of the full cost, as all students are expected to demonstrate a financial commitment to the course. We do not offer 100% bursaries.
We give particular consideration to people whose taking part in the Process will be of benefit to the wellbeing of the community at large, including healthcare professionals, teachers, therapists, counsellors and coaches.
If you think you would qualify for a bursary, you can download the Bursary Application Form Click here.
Successful bursary applicants agree to provide a case study for us after their Process. Case studies can be completely anonymous, but we would want to disclose your sex, age and area of occupation. 
Payment Plans
Payment plans allow you to spread 50% of the cost of the Hoffman Process over a 6 month period.
If you would like to take advantage of a payment plan, please advise us when you enrol. You will still be required to pay the standard deposit and complete the registration procedure, at which point we will issue you with a promissory note and your payment structure will be scheduled as below.
Standard deposit: £500
Balance on first 50% £1010
Installments on second 50%  6 x £240m = £1,440
TOTAL: £2,950
If you have any questions about payment plans, please contact the office, or to proceed to booking, click here.