You remember every detail when a phone call changes your life. I was on London's South Bank, when I called up the headquarters of the Hoffman Process and said, 'I think I need some help'. The area was packed with shrieking tourists piling into group selfies by the Thames. A super-glossy, immaculately-dressed couple emerged from the Mondrian hotel in tailored coats, embracing. Some elderly theatregoers gently made their way arm-in-arm over to the National Theatre.
'I feel as if everyone else is living their lives and I'm just getting through each day,' I faltered to the man on the other end of the phone. 'I want to know how to start again when you've lost everything.' He listened, for a long time. Because that is what they do at Hoffman. And said gently, without any hard sell or judgement, 'We might be able to help you'.
Several weeks later I had completed the Hoffman Process. And my life was never the same again. I bonded with eleven strangers in a way you wouldn't think possible. I threw away everything I had ever been told about myself. I changed my job, opened up my friendship circle, tried new experiences and committed to embracing an authentic life. I learnt that it was OK to have negative thoughts, but it was my responsibility to own them, not to change the behaviour of those around me. I learnt that my life's work wasn't to make everybody like me. And that it's possible to forgive someone completely even if you are never going to see them again. I learnt that letting go of anger is the most powerful gift you can give yourself.
When I left Hoffman, the first thing I did was to buy myself a rose gold bracelet inscribed with the words 'Love and Truth', as a symbol of the two things I prized above all else. The second thing was to walk away from my old career in magazines. I launched a podcast for The Times called Walking the Dog and devoted more passion to it, than anything I'd ever done before. Within a matter of months, it already had close to half a million downloads. I got offered a book deal. And then I bought a dog, who helped me laugh and love and embrace life again. His name is Raymond.
S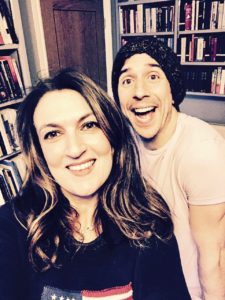 ometimes I run into fellow Hoffman graduates. And we share a moment or even just a smile. When you know, as they say, you know. Russell Kane – the comic and fellow Hoffman devotee – has become a good friend and was a guest on my Times podcast. 'I thought you didn't like me when you first met me,' I told him. 'I remember thinking, "he thinks I'm really stuck up…" and then I realised that was just me bringing some weird energy'. Russell shrugged and counter-offered, 'Or you'd probably just read lady Chatterley's lover, Em.' And we giggled.
That's the thing with Hoffman. You'll cry, you'll shout, you'll feel overwhelmed, but once it's done, you will be able to smile and find joy in little things in a way you never imagined.
But don't take my word for it. There are times in your life when you have to accept certain things. Like you'll never play up front for England. Or win Olympic gold in the women's 100m. And you'll probably die never knowing exactly what Meatloaf wouldn't do for love. But, honestly? It's never too late to get your shit together.
---
Emily is the co-host of the Frank Skinner show, on Saturdays from 8-11am on Absolute Radio. You can download her Times podcast Walking the Dog on iTunes here or follow Emily on twitter @Divine_Miss_Em
Emily is featured in the 2018 issue of Hoffman magazine. To order a FREE copy for yourself, friends or family, click here.