How to Connect Your Heart to Your Head in Work and Life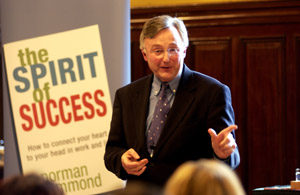 From the gangland areas of Glasgow and Edinburgh as a young Minister to the present day as a celebrated international speaker and author, Norman Drummond's life and work embodies a personal commitment to leadership and to developing talent in others. Norman is Founder and Chairman of Columba 1400 and of Drummond International. He is also a non-Executive Director of his 5th generation family shipping company J & J Denholm Limited. A former BBC National Governor and Chairman of the Broadcasting Council for Scotland, Norman currently Chairs the Scottish Commemorations Panel. He is a Chaplain to Her Majesty The Queen in Scotland, a Fellow of the Royal Society of Edinburgh and a Visiting Professor of Leadership in Education at the University of Edinburgh. After doing the Hoffman Process in 2001 he says:
 Life, Leadership and the Hoffman Process
'My family and I first came across the Hoffman Process when matters external threatened to become internal to the possible detriment of our happiness and well-being. Whilst walking the hills on the inspirational Isle of Skye a visiting friend suggested that the Hoffman Process might be helpful all round and particularly if I was the first to break such new ground.
I approached the Hoffman Process with both intrigue and trepidation, rationalising to myself that this was 90% Continuous Professional Development and possibly 10% to do with personal matters. At the end of the Process those percentages had somewhat balanced out to the extent that not only my coaching skills and approach but also my awareness of what it means to be a good son and husband and father and friend was enormously encouraged and enhanced.
The trilogy of what it means to be 'loving and loved and loveable' has been of deep and lasting help not only to further members of my family but also to the now over 50 clients and friends to whom I have readily and regularly recommended the Hoffman Process throughout the intervening years.'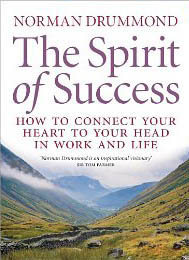 Where Would You Look For Your Soul? – An Extract from The Spirit of Success
Norman's UK bestseller The Spirit of Success has been described as a 'simple but effective guide which shows how body, mind and soul can be connected through a committment to fundamental human values of integrity and responsibility'. Here's an extract which gives an idea of Norman's guiding principles and thought-provoking questions.
 'Too many of the people I see in workplaces are simply functioning – getting through the day, covering their backs and following the company line. The board rooms and offices of the Western world are full of fragmented souls who no longer know who they are and who have lost their purpose. Many of them work long hours for great material rewards but are weighed down by anxieties, pressures and unhappiness.
On a recent trip to the United States I met an editor from the Wall Street Journal. He told me a story about an acquaintance of his who had concentrated single-mindedly on his business interests for many years. When the time came, in his late forties, to sell up and benefit from the fruits of his labours, this man really had no idea who he was or what he wished to do with his life. In fact, said the editor, if you talked to him about his soul he would probably look for the fish section on a restaurant menu. His years of hard labour had brought him money, but no real insight, satisfaction or happiness.
There are many men and women like this who have lost their sense of direction and who don't really know what they want or what matters most to them. They believe that material rewards define their success, yet they have no sense of joy and take no real pleasure in what they do. Then there are those who run, or suffer under, unhappy regimes at work. Set-ups where people are fuelled by fear of failure rather than the joy of success, where being humiliated is common and encouragement barely exists, and where individuals are interested only in their own gain and not that of others or the organisation as a whole. When this is the case, no one benefits. Staff turnover is high and morale low, productivity suffers and things go wrong.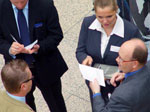 A New Way to Work
There are still many organisations which are run in this way, but change is in the air. As people throughout the Western world discover that bigger isn't necessarily better, that money doesn't buy happiness and that a life spent toeing the company line doesn't bring insight or fulfilment, they are looking for a different way of doing things and for something more. But what is this something more? I believe that to find real satisfaction, a deeper sense of purpose and genuine success we need to begin by looking inward. Too many of us rely on what is outside ourselves – material rewards and feedback from others – while neglecting the resources we have inside. Our ability truly to know ourselves, to be self-reliant, to trust our own judgement, to stand apart from the crowd and to make independent decisions often resembles a wasted muscle. This muscle needs developing and exercising until it becomes a resource that we can rely on in any situation.
 Alongside greater self-reliance and self-knowledge we need to see the bigger picture. Not just our own needs and wants but those of the people we work with and those of the organisations we work in. We need to establish values and working practices that benefit every person in a company as well as others outside it, no matter how large or small the company is. Every member of an organisation should feel that the organisation as a whole matters, and that they as an individual matter as much as everyone else. Too often the fat cats at the top cream off the benefits while those in the middle or at the bottom are left underpaid, unrecognised and frustrated. When this happens people are encouraged to trample over others to make it to the top, and once there they care little for anyone else. But if we leave our sense of integrity behind on the way to the top, the shine of success can suddenly seem dull and grey.In a company where everyone matters, everyone can benefit and everyone can feel good about who they are and what they do, whether that is making the tea or chairing the board. A shared sense of purpose, of humour, of achievement and of enjoyment is the greatest spur of all to full productivity and loyal, happy employees.
To create great organisations you need great individuals. People who are successful yet who want more than just material success. People who believe in the possible and who have vision. Who put people before projects and who still complete their projects successfully. Such people have high standards of behaviour: they are kind without being soft and firm without being cruel. They are not afraid to make mistakes and to own up to them, and are consistently able to inspire and encourage others. Above all, they stand out for their humanity and for their ability to use their heads while not forgetting their hearts.
 Every one of us has the ability to be such a person. The novelist and colonial administrator John Buchan once wrote: 'Our task is not to put the greatness back into humanity but to elicit it, for the greatness is there already.' Each of us has our own unique inner greatness. The challenge in life is to bring out this greatness and use it in the best possible way.'
 Finding Vocation – Developing Leadership
Watch Norman's inspirational address in South Africa with reference to the Columba 1400 International Leadership Academy he founded on the Isle of Skye to help teachers and young people achieve their full potential – and some of its surprising results. It's a fifteen minute video in two parts during which he speaks of how he found his vocation as a Church of Scotland minister, his early work with street gangs in Glasgow and why he feels 'disadvantaged' is a word that can apply across the whole of society.
 You can visit Norman Drummond at: www.drummondinternational.com
 Edited by Nikki Wyatt