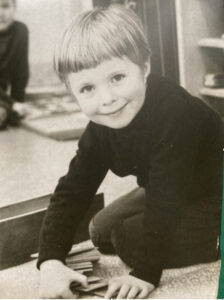 "I'll always remember September 2018 when I did the Hoffman Process – what a week it was!
I've struggled with the legacy of my childhood all my life. I was brought up by a stern elderly father and a clinically depressed mother who was in and out of psychiatric hospitals. To top it off, I was targeted by bullies at primary school. Despite this, I did well at school and in my career. Where it really hindered me was in my ability to be happy and enjoy life.
As an adult, I sought help from psychologists, as well as taking a more spiritual approach and doing energy work like regression therapy and breathwork. These all helped to stabilise my negative reactions and emotional patterns, but they didn't resolve them.
Self-esteem and love were big stumbling blocks for me. I'd built boundaries of self protection like high brick walls. Behind them was a scared sensitive little boy, who people on the outside couldn't reach. This was a hurdle in both my professional and personal life.
Once I arrived at the Process, all this gradually changed. That week, as I went through an ingenious program of different techniques together with fellow participants, certain things finally shifted within me.
I remember meeting a Hoffman Graduate at the end of the week, who'd done his Process some years before me. He told me it had made such a difference that he viewed his life as being 'before and after the Process'. I wanted to believe him, but I wasn't sure. Now I know he was right. Life after the Process is different.
You have to practice the tools they give you during the Process. One of the great features of the Hoffman Institute is the post Process part of the website which helps you keep this up.
Hoffman also run refresher workshops online and in person, including a French retreat led by a Hoffman facilitator called Matthew, in Bordeaux in rural France. I did this a year after I finished the course, together with a fellow participant of my Process, and we revisited the Hoffman core techniques. It's so easy to get distracted by our busy lives. Everyone deserves a retreat to switch off and contemplate what we really want in life.
I also recently completed a six-month online Living your Process programme led by Hoffman Facilitator Stella Horgan. I found it a wonderful way to connect with fellow Hoffman Graduates, to hone and deepen the tools we were given during the Process.
One of my negative patterns was a fear of being seen. I'm very comfortable giving a technical talk to numerous listeners in my professional medical role. Talking about my inner world is different – and a huge step. A few years ago, I'd have been very scared to discuss my feelings publicly or write an article about myself. It's still scary but, thanks to the Process, I'm writing this article about my experience.
My biggest motivation in sharing this story is to help other people to make the choice to do the Process to help themselves. If you help yourself, you help your family, your loved ones and ultimately the world."
---
We'd like to thank Deric for sharing his Process Story with the Hoffman community. You can read more Process Stories from Hoffman graduates here