On his 42nd birthday Ben Shuckburgh received a surprise no one would ever wish for – throat cancer. Yet little more than two years later, driving at top speeds of almost 150 mph, Ben fulfilled a life-long dream and took the chequered flag at the prestigious Freddie March Trophy race at Goodwood in his hand-restored 1953 Cunningham C-4R sports racing car.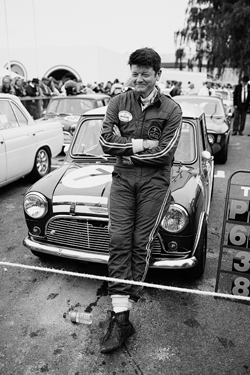 It's the sort of stuff the Boy's Own Paper was writing about around the time the C-4R was originally being built.
One of the key aspects of the Hoffman Process is its ability to empower participants to make significant changes in their life. Very often people leave their week with hitherto unrealised depths of confidence and clarity in order to shape a new future for themselves. There is no better exemplar of this than Ben. He identifies three life-changing (and in one case life-saving) decisions he has made in the past 15 years that he simply wouldn't have been able to take without the strength and self-awareness he achieved through the Process. which he did in 1999.
An outwardly successful fund manager in his early 30s, he felt hugely unfulfilled in his life but could not put his finger on why. A loving wife, two wonderful small children and a large house in Chiswick, West London – but something important was missing. And he was far from happy.
The Hoffman course is a rebalancing process. The early days involve exploring who we are now and why we behave the way we do. Participants develop an understanding that things do not need to stay the way they have been and that it is never too late to change. There is a key moment during the week when people are asked to envision a new way of living for themselves. For Ben this was a turning point.
It was during the Process itself that the seeds of Ben's first major life change were sown. During the week he began to feel a deep connection with other people, something that he felt he had really lacked before. And during one exercise he had a vision of himself standing before the group and working as a Hoffman teacher. It was a fleeting image but a very powerful one. It was so far away from his reality as an investment manager that he dismissed it.
After the Process, participants are advised to make no life-changing decisions for at least three months but the vision stayed with Ben and gradually, while continuing within his job in the City, he began to take small steps towards it.
He started going to the 'welcome home' and 'information' evenings which are held monthly and he attended the 'closure' sessions at the end of the Process week which are open to any Hoffman graduates. He also stayed connected to Hoffman UK owners Tim and Serena as well as members of the teaching team.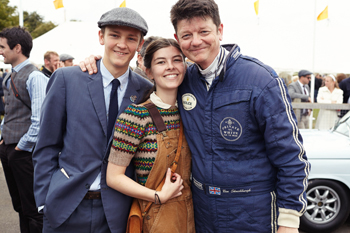 "Gradually, little by little, step by step – what seemed like an impossible and impractical dream evolved into the most natural life change I could make," he added. And so a year after his Process, Ben resigned his well paid job and started the intensive training to become a Hoffman teacher. He focused fully on his training in which he excelled and, in little more than a year, he qualified.
In early 2001 he taught his first Process and for almost eight years he formed part of the UK teaching team ultimately rising to director of training. "It was maybe the boldest move I had ever made," he said. "And while I may have been materially poorer, my life was hugely enriched. I was the happiest and most fulfilled I had ever been – I had a loving and supportive wife Emma and two kids who were growing into wonderful human beings. Life couldn't get any better."
A Challenging Diagnosis
But then, as so often seems to happen, life throws us a big challenge. And what could be bigger than the life-threatening throat cancer diagnosis that Ben Shuckburgh received in August 2008?
But things could have been a lot worse if he had listened to the first doctor he had complained to about a sore lump in his throat. Ben said: "The doctor misdiagnosed me. He said I had a fibrotic tonsil and put me on an NHS waiting list, which was estimated at a minimum of six months. Although I felt fit and healthy apart from a sore throat, something was telling me to get a second opinion." And this is where his post-Hoffman self came to the fore: "The Hoffman Process enabled me to take control and responsibility for my life and not accept what came along as I had largely done in the past. I am reliably informed that if I had waited the six months, I wouldn't have made it. I would have been dead."
When he consulted a Harley Street specialist, Ben was immediately sent to St Bartholomew's Hospital in London, where he underwent 24 hours of surgery. A week of intensive care followed and then another eight hours under the knife to rectify a problem caused in the first operation. Three weeks of recuperation and then a six-week course of radiotherapy and chemotherapy.
During this period he was very sick and describes it as the darkest period of all. But during his lowest points he had extraordinary support from family and friends. "Emma was incredible during these really dark days," he said. "In many ways it was harder for her. When you're the ill one, all you are doing is trying to survive and get well. She was looking after me, the kids, the house, her own work and all the while staying positive for everyone – she handled it all with such grace and love, I can never repay her."
The Support of Family and Friends
His wife, who did the Hoffman Process in 2000, was not the only source of support. Friends led by Hoffman teaching colleague Esme Page organised a 24-hour round-the-clock, round-the-world prayer vigil. During this really difficult period another Hoffman lesson came to the fore. Ben said: "Through the darkest days of my illness, I had the overwhelming sense of myself as more than just my physical being. "I was not defined by the broken, cut, infected body, riddled with bedsores. I was not my pain or my depression.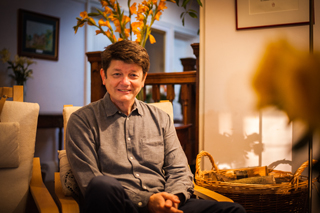 "I firmly believed then as I do now that is not all I am. There is a part of me which couldn't be touched by the monster of cancer. A bigger self. My spiritual being." Ben has no doubt that the positive energy engendered by the loving support of family and close friends helped him pull through as well as his own underlying spirit and gradually over the following weeks and months, he began to recover.
But life had more challenges in store for Ben Shuckburgh. The surgeons had removed a lump the size of an orange from his throat and radiotherapy had virtually destroyed his ability to eat. Everything had to be fed into his stomach via a tube. He also had to learn to speak again.
At night Ben had to plug himself into a pump and feed through a tube into his stomach. For a year he took all his food this way. He stopped attending family meals or socialising with friends. That, together with his difficulty in speaking, as well as the debilitating effect of his daily morphine doses was sending him into a downward spiral of despair. "Not eating and drinking has an incredibly isolating effect. So much of any social contact revolves around food or drink," he said. "I felt myself withdrawing from life and I could see the negative impact it was having on my family. I could only see an unhappy ending unless I took control again." So his first action was to unilaterally stop taking morphine. He ditched the remaining bottles and lived with the resulting pain, which eased after a couple of weeks.
When a succession of speech and language therapists told him that he would never be able to eat properly again and that he would have to survive on a diet of soft foods – such as scrambled eggs, soup and yoghurt, Ben decided he must keep looking.
Pioneering Training
A doubting but well-meaning therapist mentioned that she had heard vaguely of some researchers who were doing some early work in the US on retraining cancer and stroke victims to eat. Ben spent days trying to track down Michael Crary and Giselle Mann. He finally got in touch with them at the University of Florida Hospital and persuaded them to take him on as a case study. Their programme was based on physiotherapy. "Basically it involved force feeding me and if I choked they would dyno-rod me, clear it all up and feed me again. It was pretty grim but frankly after the depths I had been to, it was a piece of cake," Ben said. After three weeks he was almost eating normally again.
"When I arrived they asked me 'what have you missed most?', I replied 'the Sunday roast'. After three weeks they invited me to their home for lunch where I had roast chicken and all the trimmings. Absolutely astonishing, as at the start I couldn't even keep jelly down. I can't express how grateful I am to Mike and Giselle whose work really saved me."
Ben binned his tube and pump and flew back to London where he invited the therapist who had mentioned the research to lunch. As he munched his way through his restaurant meal this time it was her who was having difficulty eating: "She spent the whole meal in open-mouthed amazement at what I was able to eat. If I hadn't taken this action, I would still be eating through a tube, almost certainly on anti-depressants, and a constant drain on the NHS. I simply would not be functioning properly or possibly not at all."
My Second Dream Job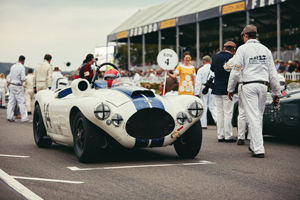 But far from not functioning, six years on Ben is now in his second dream job – Hoffman having been the first. He is managing director of CKL Developments – a business with 30 employees which restores and sells historic cars. "After I could eat and – through speech therapy – speak again, I got my zest for life back," he said. "I've always had a passion for classic cars, so rather than rushing into a decision about a job, I filled my days bringing the Cunningham C-4R back to a road-worthy, indeed a raceworthy, condition."
And so it was in September 2010, Ben took part in the Freddie March Trophy at the Goodwood Revival. Racing became a part of his new life and through his sociable nature he got to know many of the people in the industry, which culminated in him being offered his current job.
Ben Shuckburgh puts the lessons he learnt on his Hoffman week at the heart of how he has arrived where he is today – a fit and healthy 50-year old, with a loving and much-loved family, the perfect job and a balance to his life that he would have thought laughable 15 years ago.
"Hoffman taught me how to change," he said. "It's about the power of having a vision, finding the courage to take a step towards it and the commitment to stick to it. I got there by knowing where I wanted to go and then making hundreds of little life choices along the way to get there. "The Hoffman Process also gave me the courage to take control of my life and live it the way that I wanted. It's about not being afraid to be bold."
And then he quotes Goethe: 'Whatever you can do, or dream you can do, begin it. Boldness has genius, power, and magic in it!'

Article by David Wallace