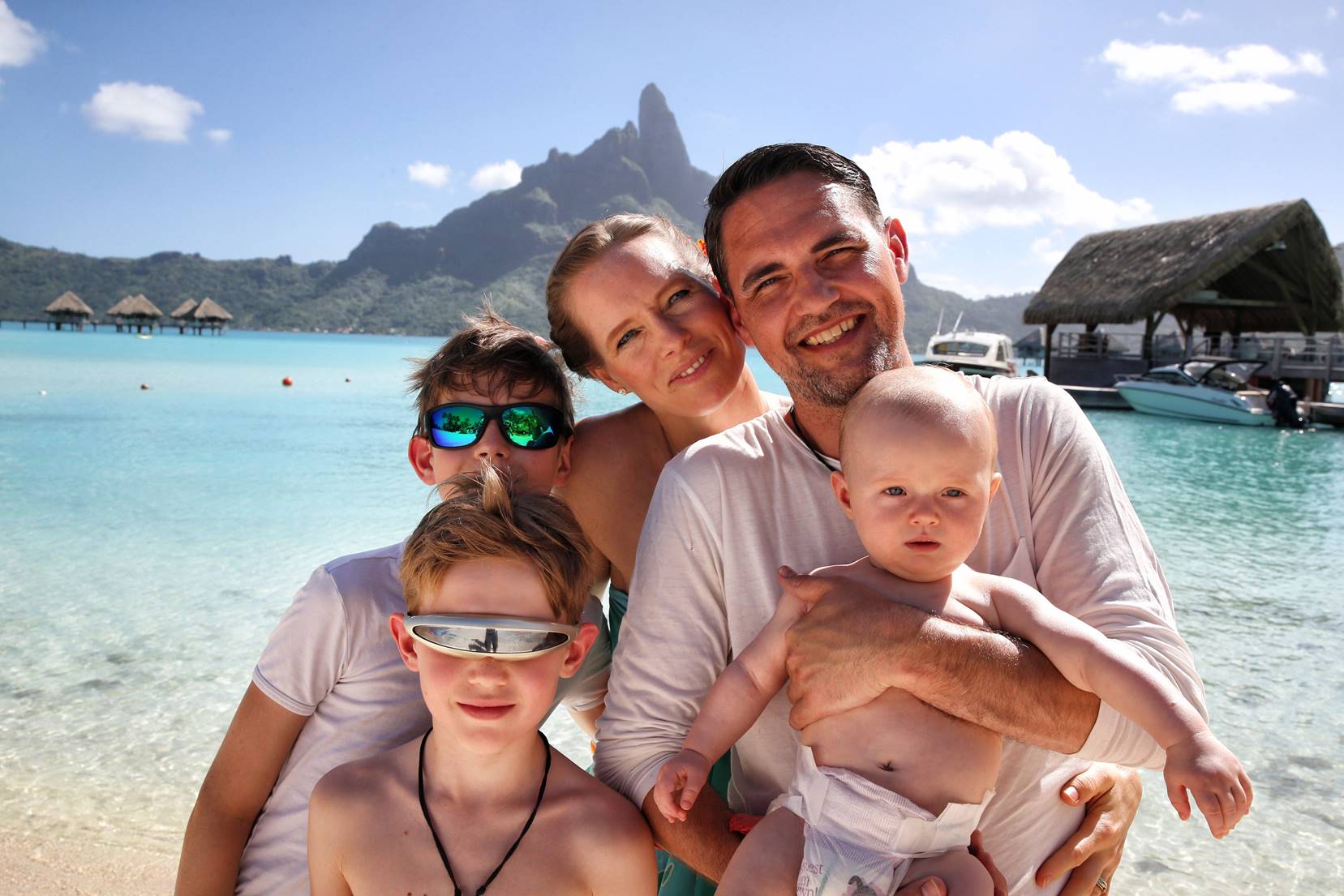 'What is wrong with me? Why is life so hard? Nothing is going my way.' Walking across Waterloo Bridge in early 2016, I felt like a complete failure. I wanted to scoop up my family and run away from everything, but I had no clue where to go! The irony of the situation did not escape me. After all, I'd achieved the vast majority of my goals. I was living in a beautiful home outside London with two wonderful kids, the wife of my dreams and a job at the LEGO Group that many would love to have!
For months and months I'd been trying to convince myself how incredibly fortunate I was. Trying to persuade myself that, while so many others are hit by cancer, car accidents or the death of those they love…I was acting like a complete idiot, not appreciating my good fortune. But even the darkest hours were not enough to make me change…until the day I took an honest look at myself and my family and realised how much my negative thoughts and patterns were impacting my two sons Jesper and Oliver aged 11 and 8.
And then there were three…
I remember that January day very clearly; I'd just arrived home from a trip. I was standing in the bathroom late at night and my wife was smiling radiantly in a way that reminded me of two earlier occasions in our relationship…she was holding three white sticks in her hand. Trying to put a smile on my face I remember having only one thought 'Oh no, another beautiful child I will destroy!' This was my wake-up call – it was time to act.
A very special person led me to the Hoffman Process and helped me realize that although the coaching I'd had until then had been very valuable, I needed to go deeper to find the answers I was looking for. When I reached the site at Florence House in Sussex, late one Friday afternoon in 2016, I was nervous, doubtful and most of all afraid of what was to come. Maybe the beautiful summer's day was a good sign, but I definitely didn't register that at the time.
Taking Up the Dare
Going through the Process was an experience I will never forget! It was as if I had been given my biggest dare – and I was not ready to take it up by telling the truth…at first. But slowly and surely through the week I was given the opportunity to increase my level of understanding, to see what I had really become, why I was here, what had made me who I am and most importantly to rediscover the person I'd always wanted to be.
20 people came to my particular Process – all with similar intent – yet we walked away with different paths in mind…our very personal path. For me I found a new perspective on the life I was living and renewed passion for what I was doing. It also became crystal clear that some things had to change. Above all, I emerged with one key question that I've continued to ask myself ever since: 'What will make me happy?' I realized that I had to stop compromising my own needs to please others and instead be aware that when I don't lose sight of my own happiness and motivation I'm able to be there so much more for the people I love. In fact I have a much greater impact on the things that are important to me in all areas of my life.

Making Memories
After four months of living with this new mindset, my wife and I took the decision to realise a long-cherished dream. Despite being warned against it by several senior executives who thought it might negatively impact my career, I decided to take a 3 month sabbatical to switch off and spend quality time with my family. Little Jack was born at the end of October and in March we packed our bags and set off on our adventures.
Together with Jesper and Oliver we'd selected destinations we'd never seen and cultures we'd not been exposed to before. For two months the five of us travelled with backpacks filled with diapers, sunscreen, snorkelling gear, gluten-free products (lots of them) and a big smile. We experienced fascinating and far-flung destinations such as Tokyo and Takayama in Japan, Abel Tasman National Park and Lake Taupo in New Zealand, Bora Bora and Tahiti. Together we created amazing memories.
This last year has flown by and I have not lost sight of what I discovered during that special week in July. There have definitely been ups and downs, but re-connecting to the group, talking to the Hoffman teachers a few times and using the tools have all helped me stay on track. In particular doing something called the Quad Check frequently, when I check in with the needs of all the different aspects of myself, and having my 'Right Road' map as background on my phone helps remind me of where I want to go!
Love is in the Air
But the most important source of motivation for me has been to feel the difference it has made to me and my family. My wife is still reminding me of the difference she is seeing, my two oldest sons have opened up to me much more and today we talk about topics we would never have discussed in the past. There has always been love between us, but as my middle son said to me the other day: "Dad, I feel that now I really see you and I love you"! I find it hard to explain exactly what has changed, but they feel the impact of my changes and I am so incredibly grateful for this.
Leading up to my paternity leave and since I've been back I've been much happier and significantly more motivated. For some reason it seems that so many interesting opportunities are suddenly coming my way – both personally and professionally. I know that my situation may not seem to have altered greatly, it is pretty much the same as before I went on the Hoffman Process, but the way I feel about where I am is very different. While very little has changed in the world around me, I am miles away from what I felt 18 months ago walking across Waterloo Bridge.
I will always be in debt to the Hoffman Process, the three teachers, the 19 fellow travellers who experienced it with me and all the people who never gave up on me. I feel incredibly privileged at being able to share my story, and my hope and intention is that it can provide inspiration to others. If this story has even the smallest positive impact on someone reading this, it will make me proud.
Passing it Forward
If there's one thing I've learned that I'd like to pass on, it's this: happiness is within all our reach. Even if you've lost sight of who you are and how much you mean to your friends and family like I did, you can still find it again. Discover the small joys in life.
Now I find happiness in all parts of my life, when playing with the boys, sitting quietly next to each other, cooking and singing. I feel deep joy in watching little Jack learn to pick up a green pea…..amazing how patient that little fellow is trying 15 times, getting one little green pea in his mouth, smiling incredibly proud…before making the next 10 tries.
Remember that happiness is out there waiting for us to grab onto it. It's never too late – and it's so worth it!
Michael is featured in the 2018 issue of Hoffman magazine. To order a FREE copy for yourself, friends or family, click here.