New Beginnings – Rising From the Ashes
The imposing granite walls of Raasay House stand on the stunningly beautiful Isle of Raasay near Skye, off the west coast of Scotland. Historically the seat of the Macleod clan, the original house was burned down in 1746 only a year after it was built in retribution for the Macleod's aiding the Jacobite rebellion in support of Bonnie Prince Charlie. More recently the house has relived its dramatic past in another conflagration but, despite tremendous setbacks, the current guardians have fulfilled their promise that it would once more rise from the ashes. It's a story of extraordinary tenacity, love and courage and over the past decade each of them came to the Hoffman Process for inspiration.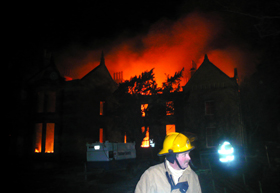 In 1984 Lyn Rowe started an outdoor activity centre at Raasay House. She was later joined by her daughter Freya and Freya's husband David Croy in a shared vision to bring prosperity and appreciation to the island that they had all fallen in love with; they wanted to help visitors feel the same deep connection to its beauty and amazing wildlife including sea eagles, puffins, seals, whales and dolphins. The 200 strong island community banded together to buy the house in 2000 whilst Lyn, David and Freya raised funds for a major 4.5 million pound refurbishment
In January 2009, three days before they were due to pick up the keys to the lovingly restored house, Lyn received a call to say the building was alight.
Lyn: 'I was living in Raasay village when the call came through. I walked up to the house at midnight to see that the fire had really taken hold. Next to me stood a man silently weeping – he'd just finished hand-carving 50 beautiful new windows and was watching them reduce to ash'.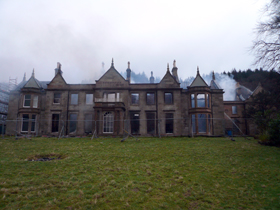 David: 'I'm retained as a firefighter and I'd been training on Skye with the local brigade on the day of the blaze. We were awoken by Lyn calling in the middle of night; her first words were: 'it's through the roof'. It took us a moment to understand what was happening. As Freya and I travelled across the water to Raasay we could see the house burning a mile away; it was 2am and the flames lit up the sky in a dramatic display. It was incredibly beautiful to watch, the building was so alive, surreal and full of power. As soon as we docked I grabbed my kit and joined the team trying to douse the flames.'
Starting Over
Remarkably the trio picked themselves up and began successfully raising more funds to start a new refurbishment but their faith was to be tested once more six months later. As the recession tightened its grip, the construction company in charge of the rebuilding went into administration. It happened at a critical point in the year, so the outdoor centre, which was operating from a temporary home, lost thousands of pounds in winter business. Of the 200 people on the island 120 now remained; the future looked desperately uncertain.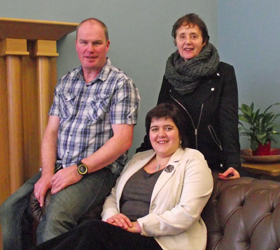 Lyn: 'Through all the challenges what kept me going is this beautiful place. It's this elemental and beautiful island that we want to share, as much as the house. The house is owned by the island community; it has meant so much to people in the past and it could mean so much to people in the future. My reaction to the fire was that there was no loss of life and the rebuilding had been resourced once so it could be resourced again – we'd had setbacks before and this was just another setback. We three are very different people. I'm a dreamer whereas David's a 'doer', a practical person. Freya has a lot of holding, grounding energy; she brings a lot of love and will to what we do.'
David: 'The business has survived precisely because we're so different, so we each bring something essential to the house. Also, since Lyn started the business it's had input from many amazing people. We've employed over 1,000 staff since we started and some have been really inspirational.'
Freya: 'It took five years to rebuild the house. It was a huge strain; our children were 3 and 10 years old at the time and it demanded time which inevitably impacted our family life. Now, if David and I go on holiday we never discuss work!'
New Begininings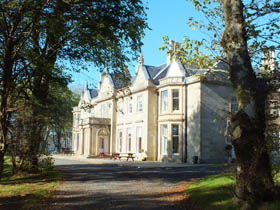 Now in its third incarnation Rasaay House offers 22 rooms to suit every budget – far more than the trio had envisioned at the start. It was opened by Charles Kennedy in 2014 who described it as a 'truly inspirational development.' So what emerged from the ashes for each of them?
Freya: 'What emerged for me was freedom. For 30 years we only had a summer business but now we can operate all year round. We can fulfil so many more requirements for our guests. We can have 50 children having an outdoor holiday plus honeymooners plus someone on a writing retreat and with such a huge space they can all co-exist in harmony. Also the first rebuild didn't include replacing the roof but the second rebuild did, so we now have a warm, watertight structure.'
Lyn: 'What emerged for me was hope. People don't like broken things and we've been a broken thing for 5 years. This is now a house of possibilities and the ethos is one of love. It can be many things to many people. The Phoenix has risen from the ashes – now it just needs help to spread its wings.'
David: 'What emerged for me was beauty. The house feels as if it's now leaving behind its brutal history. It has spectacular views and a calm energy that people comment on. We want people to come in search of an emotional connection with nature. The island offers a chance to see dolphins, deer, sea otters, seals and basking sharks as well as activities that test your nerve such as coasteering, abseiling and gorge walking.'
Lyn: 'You can rediscover fun and play here too. Everyone has a different experience and takes away a different memory, but they all retain a sense of connection. Raasay is the same size as Manhattan Island yet you're in a wild place with only 120 people and it's only a 4 hour journey from Gatwick airport. It's a 2 hour flight to Inverness and 2 hour journey from there to Raasay, taking in some breathtaking views. I remember when it used to take 24 hours. Now I can leave in the morning and be in my home town of Brighton having tea with a friend by tea time!'
How Hoffman Helped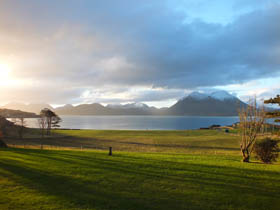 Freya did the Hoffman Process in 2001 and Lyn followed her example in 2004. Having seen the differences it made in their relationships, David made his own journey to the Process in 2011. How did the course affect their work and personal relationships?
Freya: 'I was 33 when I did the Process and our son was two and a half years old. I'd done no self development before but I knew I needed to do something because I wasn't happy. We were hosting a Shamanic conference up here and a lady called Dawn Eagle Woman suggested the Process to me. I knew I didn't want to do weekly therapy sessions because I didn't want to bring emotional processing back into the family on such a regular basis – an intensive week away was perfect. I'd call it a leap of desperation rather than a leap of faith – I didn't know what else to do!'
Lyn: 'When I finished training in Psychosynthesis in 2002, I felt that was enough personal discovery work. But I could see an immediate difference when Freya came back from the Process – she stepped into herself. She asked me to take a sabbatical from work for a year and when I got back she gently suggested that I did the Process – I haven't looked back since. It's taken a wee while to merge the understandings of the Process and Psychosynthesis but they've now found a way to live together within me.'
Freya: 'My experience of Lyn when she came back from the Process was that she was less in her head. She stopped over-thinking things and did more bodywork such as yoga.'
David: 'I noticed Freya had changed when she came back from the course. She was more assertive. I was very resistant to doing the Process but in the end seeing the continuing effect of both Lyn and Freya's experiences convinced me to go myself.'
Lyn: 'Now, since we've all done the course, we gently and slowly give each other space. I feel we planted something at Florence House, where we did the course, which is flourishing now at Raasay. I consistently recommend the Process because I think it's such a huge kick-start.'
You can read more about Raasay House by visiting: www.raasay-house.co.uk
Interviews with Nikki Wyatt