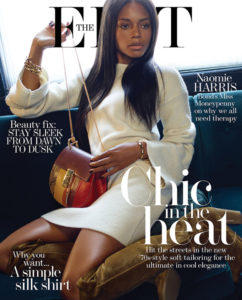 Naomie Harris started her career as a child actress, appearing on the children television series Simon and the Witch in 1987. She played voodoo witch Tia Dalma in the second and third Pirates of the Caribbean films, Selena in 28 Days Later,  Winnie Mandela in Mandela: Long Walk to Freedom and Moneypenny in the James Bond films Skyfall and Spectre. In 2016, she starred in the critically acclaimed film Moonlight; a performance which earned her several nominations for Best Supporting Actress awards, including the Golden Globe, BAFTA, and the Academy Award.
With the world's attention and the glare of the media spotlight firmly on her, Naomie took the chance to talk about how she had taken time out to do the Hoffman Process – and the incredible impact the decision had provoked.
Talking to fashion magazine Net-a-Porter, Naomie said she took the course because she wanted 'to fully become an adult,' adding; 'Most of us operate as if we are adults, but we aren't emotionally mature at all.'
'I did The Hoffman Process, which is all about learning re-parenting, because so many of us come from dysfunctional parents, and we get trapped in negative patterns that stem from that. To break those patterns you have to be in a space where you can recreate what you went through and deal with it.'
When quizzed about whether she enjoyed the Process and whether she still stays in touch with her fellow graduates she said; 'Absolutely. We text each other all the time. I spoke at length last night on the phone to someone who had reached out to me, and in the same way I'll be able to reach out to them when I need to. I just want to be the best human being I can be.'
In a separate interview with More magazine, Naomie explained that she decided to concentrate on personal development several years ago, which led her to the Process.
'A big thing for me was anger. Like a lot of women, I often swallow anger and hold on to it. The challenge is to let it out without the neighbours thinking you're crazy.'
And in US magazine Essence, she added: 'You get into habits of relating that aren't necessarily healthy. I just wanted to get that perspective on my childhood. You have to delve into the fire and experience and discover where an issue really lies and deal with it.'
---
Read more…