Social Entrepreneur and founder of Feeling Magnets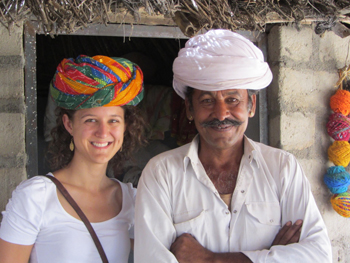 In 2012, in her mid 20s, Manuela Berger realised that her successful career in Hospitality Management ticked everybody's boxes but her own. During a year off to get some clarity she did the Hoffman Process. At first she felt it hadn't 'worked' but then she found an unexpected new direction …...
'I grew up as an expat child, moving homes, countries and often continents every two to three years. Originally Swiss, but having lived in Sri Lanka, the Philippines, Indonesia, Brazil, India and the United States, I saw the world as my oyster but I had no idea what I wanted.
This international life led me to study Hospitality Management and I began my career working for multi-nationals. However, the more I saw older colleagues who had lost their spark and who were just waiting for retirement, the more I knew that I didn't want to end up like that. Although many people my age were unemployed, I left my secure job to give myself the gift of a year to discover what I really wanted. Initially I went to work on a consulting project in India, then I returned to Switzerland where I supported various passionate people in realising their dreams.
Finding the Next Step
Exploring my interests was the best thing I ever did, yet I still wasn't sure what would come next. Going back to a corporate job didn't feel right. Starting something of my own appealed but what would it be? I was stuck. Paralysed. My usual way of making decisions, listing pros and cons, asking everyone I trusted for their views, led me nowhere. Quite frankly, I felt stupid and extremely uncomfortable.
Then I heard about the Hoffman, various friends of my parents, who didn't know each other, were raving about this mysterious Process. When I saw the Hoffman tagline 'When you're serious about change', I felt spoken to. Witnessing my internal struggle, my parents offered me the Process for my twenty-sixth Birthday.
I didn't leave the Process completely changed. Actually, I was a bit worried that it hadn't 'worked' on me at all. The truth is, the experiences and lessons from that week were so profound, they took time to integrate. I was still stuck but now I had an internal compass to help me go forward, I just needed to practice using it.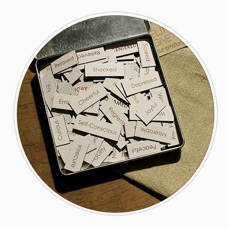 I became aware that my feelings had been controlled by my rational mind – or intellect, as they would say on the Process. I'd tell myself, 'I have a great family, a nice home and so many options – I should feel happy'. Except, that's not how it works. Coming home after the Process, I decided I really needed to learn to consciously feel. So I practiced daily, just paying attention to my feelings and writing them down. Along the way I created a fun tool to build my emotional vocabulary where I would choose feelings from a selection of magnetic labels I created which I'd put up where I could see them.
As this tool evolved it became clear that it could be useful to others as well. The idea of my business Feeling Magnets was born which has now become my focus: I want to help others explore this incrediby valuable resource that we have within us and mostly don't use: our emotions.
Life Has Changed From The Inside Out
My life is very different now – I'm independent, doing what I love, no longer stuck in relationships that aren't right for me – and one thing that I'm sure of is that I wouldn't want to go back. Paying attention to my feelings has taken me to a whole new level of self-awareness. My feelings have helped me make some very important and difficult decisions in relationships and also with the projects I choose to pursue. Where I used to go back on my decisions many times, I now have more security and clarity to follow through on them with a calm confidence.
My closest friends and family often comment on how different I am today – for the better (thankfully). When I ask what they mean, they say that I somehow seem more at peace, calmer, softer, gentler, more considerate of others, more patient and tolerant. My mother often tells people it might be for the best that I wasn't yet married, seeing how much I've changed.
My biggest wish is that I'd learned this earlier. I'd love it to have learned it from my parents or in school. But the good news is that it's never too late. If a stubborn, rational and 'heady' person like me can become friends with my feelings, then really anyone can.
My Top Five Tips to building a healthy relationship with your feelings:
1. Really pay attention to your feelings. Stop what you're doing and just feel.
2. Practice labelling your feelings so you know exactly what they are.
3. Whatever you feel, accept it. It's there for a reason. Let it be there.
4. Ask your feeling what it's there for. What does it want you to notice? Something about your needs, your values, your goals ?
5. Remember that all feelings have good intentions – they are your friends.
People are often hesitant to look closely at their feelings or to express them. It helps to know that we are not our feelings. They give us valuable information to guide us but they don't define us. An important distinction to make around how we express our feelings is the language we use. It makes a world of difference if we say 'I am angry' or if we say ' I feel angry'. Emotions come and go in waves, let's not give them form by defining ourselves by any emotion. I am not a sad person, but I do sometimes feel sad. And yes, that's what makes me human. It's what makes me more compassionate, more empathetic and it shows me what's important to me.
If there's one thing I can recommend, it's to take a couple of minutes a day to just check in with how you are feeling. Just ask yourself : 'How am I feeling right now ?' Invite your feelings in as friends.
To find out more about Manuela's innovative resources for bringing awareness to your emotions and how they can help you navigate through life, visit www.feelingmagnets.com You can also enjoy her suggestions on how to embrace your emotions on her blog and follow her on Facebook and Instagram
Edited by Nikki Wyatt