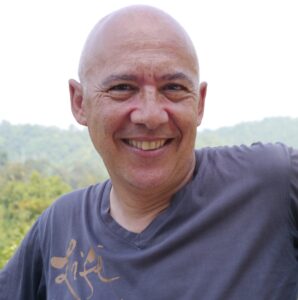 We don't have forever. If being in lockdown has given us anything at all of value, for many of us, it's been a unique and welcome chance to slow down, or stop completely and reflect on how our lives are working out.
At the age of 43, I was living the dream: married to a beautiful and successful woman, together we had built a small, thriving, mission-driven consulting business that we were proud of. For my work as CEO, the Daily Telegraph presented me with their prestigious 'Business Leader of the Year' Award. We lived in our favourite part of West London and were about to start a family. If you're getting a sense of foreboding, you're spot on, as things took a sharp, unexpected turn.
Within six months of the awards ceremony, my wife announced that she was leaving our marriage and our business. In a matter of days, my painstakingly designed and diligently created life collapsed. To make matters worse, my father also passed away. Just like the coronavirus, these events were unexpected and I sensed that life would never be the same again. My long-held dreams of a business and a together-forever family had imploded. Through events outside of my control, I was catapulted out of my identity as a husband and business leader, into a highly unappealing new identity of what felt like a lone survivor in an apocalyptic movie.
At my father's funeral in 2004, I worked out that if I lived until I was eighty, which is the average for UK men, I had roughly 12,500 days left. You may not be surprised to hear that in the aftermath of all that change, I felt compelled to re-imagine my life and create something new out of the wreckage of those events.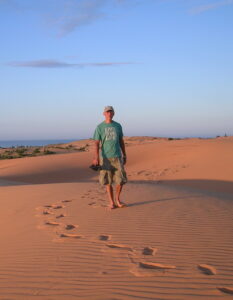 The subsequent decisions I made resulted in a global nomadic journey to find the teachers and events that enabled me to discover what 'living life true to myself' meant for me. I sold my business, my house, all of my accumulated possessions and re-engineered my life financially. I left the UK with just a bag of clothes and a laptop, determined to explore the world for a while and fulfil some of the personal dreams that I had been holding in my heart for many years. I had no experience as a budget traveller and at 45 years of age, I may have become one of the oldest back-packers in Asia!
I began my journey of exploration in 2005. In the stories you'll find in my new book 'Life Without A Tie', I've shared what happened, as well as the insights and wisdom that came from a random, unpredictable series of events that took me through twenty-eight countries. During the journey, I learned how to meditate, started a mindfulness practice, launched a global foundation and raised $50,000, became a marathon runner, acted in a play, trekked in the Himalayas, walked the Camino, attended a retreat with the Dalai Lama, published a widely-read travel blog for six years, coached a hundred people in the business world in Asia and enjoyed countless experiences whilst travelling.
I also did the Hoffman Process in 2010, which changed my life to a huge extent. A decade later, I reckon I show up in the world better than Ive done at any time previously, and the more I put into practice what I learned, the better things get. Of course, life itself is the real process and that will last for the rest of my time here. Above all, the Hoffman Process gave me the confidence to trust that my true spiritual self is the ultimate director of my life, relieving me from an inappropriate dependence on my intellectual self or my emotional child self to make all the big life decisions.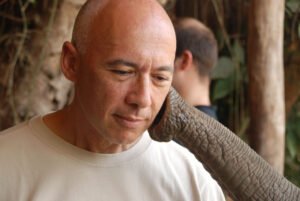 It hasn't been easy. I've seen and learned a lot that has helped me live my best life. And I'd be the first to admit that I'm far from perfect. Even now, I sometimes have doubts about what I'm meant to be doing. The daily exploration required to continuously challenge one's self can become overwhelming and when we get lost, we all need help to find our way again and return home to our innate sense of peace, calm and well-being.
My intention is that my book will be one way that I can share these experiences, and the knowledge and insight that came from them, with people who are on a similar journey and who want to know the truth for themselves. To me, curiosity is a grossly under-rated quality. Yes, I've spent a lot of time travelling, but 'exploring' does not need to apply just to physical places. It is just as desirable and rewarding to be curious about language, agriculture, history, music, the arts, the mystical, physical well-being, the financial world, the nature of power, tyranny, community, humanity and spirituality.
I reckon I've got about 6,500 days of my life left. If I spend half of those doing the work I love, which is supporting people to re-imagine and live their own lives in a way that inspires them, I believe that will be time well spent."
Ray's book, 'Life Without A Tie' is published on 1st November 2022. You can read a short excerpt below or order a copy here: https://getbook.at/LWAT To find out more about Ray's coaching work and fundraising, visit his website : www.thedailyexplorer.com.
---
© Ray Martin 2022. Reproduced with the permission of the author
"I thought about earlier that year in San Francisco, when Jett Psaris suggested the Hoffman Process as a way to keep my journey of self-discovery going… But the fear of what I might discover about myself, not to mention the sizeable fees, were holding me back. I needed a confirmation signal from the Universe that signing up was the right thing to do.
Right on cue, it came that Friday evening whilst I had a drink with an old buddy at the Electric Club in Portobello. Brian was a playboy in his early fifties, who owned a successful graphics business in London. We'd met a few years earlier, during a fundraising expedition across southern India. Brian was rich, handsome, single, and looked a bit like George Michael. He was a lady's man and exuded charm. On previous occasions, he'd enjoyed telling me stories about his alcohol- and cocaine-fuelled sex romps with women half his age. At the start of our friendship, they'd been titillating, but they'd become boring after a while, as it appeared that was all there was to him. I'd waited and hoped we'd eventually connect at a deeper level. It hadn't happened in the previous five years, so when we arranged to meet this time, I fully expected that the leopard would still be wearing the same spots, and I'd have to endure his lewd stories once again. I decided if he behaved in the same way as he usually did, it was the last time I'd meet up with him. Annie and I had just broken up, and I felt raw and upset about losing her. I was not in the mood to hear him gloating about his sexual conquests.
When I arrived, his greeting me took me by surprise. He stood up with open arms and embraced me in a firm and long hug. It was so unusual for him to do that. We sat down and ordered a couple of drinks, and I asked him what had been happening recently in his life. He described a challenging relationship with his girlfriend and actually shared how he felt about what was happening, acting out of character again. He was vulnerable, transparent, and honest. For him, that was a transformation. In the past, he would have bantered, focused on the events that were fun or sensational, and made revelations about his lovers. He wouldn't have said anything deep or meaningful about his inner, emotional world. I was struck by the difference I saw in him. "If you don't mind me asking, Brian, you seem really different from the last time we saw each other. What's happened to you?" "I'm not sure what you mean, Ray. It's hard to say. Perhaps it's down to a programme I took part in a few months ago called The Hoffman Process. Have you heard of it?"
I had goosebumps. There was no way I could have predicted he'd tell me that. It filled me with awe and gratitude, as I was being guided by the Universe yet again…"