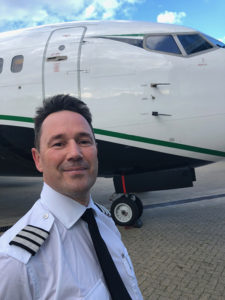 Pilot Bruce Crawford went to the Process looking for an indefinable something that was missing. He knew his life had to change but he didn't know how. After the course it seemed that the winds of change were taking him in quite the wrong direction but he remembered to practice his Process tools and, not long after that, he had cause to remember something else – his childhood passion, which turned out to be what he'd been looking for all along.
I left the Hoffman Process full of optimism, hope, and a new sense of vigour. I'd spent a week coming to understand more about why I am the way I am, why I feel in the ways I do, and how to read and harness the power of my feelings.
I'd come on the course because I'd reached a stage in my life where I realised that change was necessary. Now I had ideas and tools that would help me make those changes – the trouble was that I didn't know what I wanted to change.
I wasn't sure about the vision for the future that I'd created on the course, but I knew I had to start somewhere. So where to start?
My job as an airline pilot? I love my industry, but I was laid off by my company a month after the Process.
My relationship? That was changed for me as well; it ended about two months after the Process.
Suddenly, my optimism was being rolled thinner and thinner. Christmas week was a bit miserable, and the Dark Side of myself that I thought I'd successfully evicted was trying to find sneaky ways back in…
Trusting the Process
The characteristic I was given as my special gift on the Process was 'trust'. I wasn't told when or where or who to be more trusting of, just to be more trusting. What I took from that was to be less cynical. So as I pondered my next move, I tried to be more relaxed and to remember to trust in the things I'd learned on the course.
I continued to do daily check-ins with each aspect of myself; my body, intellect, emotions and spiritual side. Each night as I put the light out, I practised appreciations and gratitudes. I went to Hoffman events, listened to meditations on my Hoffman app, and spent time most days with the Hoffman journal.
Slowly, I rebuilt the hope and optimism. I got a new flying job which is way better than the last one, and, as winter turned to spring, my energy grew, as surely as the sun returned and the days lengthened.
But there was still something missing.
Ongoing Repairs
My broken relationships with my family were gradually repairing, and my relationships with friends became stronger. I realised it was time to let go of other relationships that I was hanging on to out of fear, not love.
My new relationships at work were certainly good. I'm working with a new group of people who are much more my sort of people anyway, and in a company bursting with energy, optimism and innovation. It's a great place to be able to set my cynicism aside, and be swept along on the surf of new successful connections. I'm allowed – even encouraged – to be a leader, and am respected for suggesting innovations. I've permission to try new things, even if some of them don't work out. It's a company that realises, and understands the power of vulnerability!
Life was really working out. I was sure the Process had played a part; it taught me how to be the best version of me.
But to paraphrase the classic U2 anthem, I still hadn't found what I was looking for. I was missing passion, a fire in my soul, although at this point I hadn't quite understood that.
I was searching for the missing ingredient, and it was wearing me out. I needed a holiday.

Surveying My Options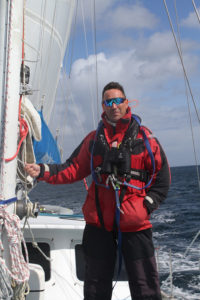 You know how sometimes you can't find something you've lost when you go searching for it, and as soon as you give up looking, it turns up right under your nose? Or how you come out of a shop with something you didn't know you wanted, but it's the perfect answer to a problem you didn't know you had?
I'm not much of a one for a beach holiday or an all-inclusive resort, so I decided to spend two weeks on a yacht survey off the west coast of Scotland. Twice a month through the spring, summer and autumn, a group of six volunteers supervised by a skipper, a mate, and two research scientists sets sail from Tobermory on the Isle of Mull to survey the inner and outer Hebridean islands for cetaceans (whales and dolphins). I was excited to be part of the crew. I used to fly around the west coast of Scotland, so it was also a way to see it from a different perspective, and to become immersed in part of the life there.
The group were about half my age, and from all sorts of backgrounds. We came together as an effective team and a close social group in no time – I think Hoffman helped me to relax into the group in ways I don't think I would have done in the past. Our skipper was really superb; a local who'd grown up with boats, she'd then trained as a marine biologist – so she knew the area, and her subject, back to front.
As a teenager I'd loved sailing, but somewhere along the line life had taken over. Me and sailing had drifted apart, becalmed in a sea of grown-up responsibilities. I chose this holiday because it wasn't a Mediterranean beach or an Italian tour. I chose it because of what it wasn't, as much as for what it was – more of a working trip, an adventure, a marine safari.

Back in My Element
Unintentionally, over the two weeks, I was able to take myself back to the (much) younger me; me in the age of innocence when the world really was my oyster, and the horizons of possibility were limitless.
On the yacht I could feel and taste the elements; the warm sun on my cheek, even through a chill breeze; the tide tugging at the anchor; the deck beneath my feet rolling and pitching on the swell; the rain dribbling down my neck (it was summer in Scotland after all).
My soul started to stir again. My heart began to sing again. My intellect piped down, and my emotions began to engage. The salt I tasted on my lips was not just the salt from the Hebridean sea, but also from tears of joy and relief.
It's All Part of the Process
I still love my job, but I'd lost connection with the things that fire me up. I re-found my connection to the power of the elements, the big skies, the rolling seas, and the humility of knowing that I have little control over them, but that given the right respect, they can be enjoyed and used to my advantage.
The Process doesn't claim to be the last word in fixing yourself. For me, it has been the start, the turning point, a chance to redraw the map and make new choices.
Maybe I was looking for answers in the wrong places, or maybe I was searching too hard. Either way, I think that now I have found the next step.
On my Process week, I spent a lot of time outside of myself looking in. On the yacht, I had the opportunity to look out from within. As my inner and outer worlds meet, my evolution continues. I'll continue to trim my sails, and learn to work with the tides and the winds at sea, and in my life, so that I can enjoy the journey.
Where might it take me next? I am not sure exactly, but I am going to do more sailing, and a day skipper course which will allow me to sail small yachts around coastal waters, to take me back to my place of connection.
---
To find out more about supporting and volunteering with the Hebridean Whale and Dolphin Trust, visit: https://hwdt.org