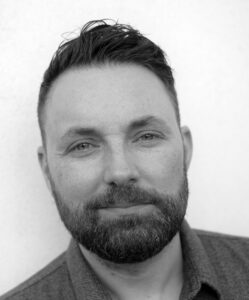 Counselling is not work people just 'fall into'. When I was training, my supervisor said that people are drawn to my line of work because we're 'wounded healers', and that while our theoretical training was for five years, most of us had been training our whole lives.
My life – and training – began in Southend-on-Sea in 1979 where I was born to a twenty-year-old mother and a father ten years her senior. My parents separated when I was four and my mother and I lived a very uncertain life for a time – I went to 7 different primary schools, yet I yearned for stability. Eventually, when I was 8, we moved to London, where my mother married a successful businessman.
My school years were unhappy ones, as I was hyperactive, which made it hard to concentrate. My parents supported me in seeing various therapists and counsellors over the years but I remained in a pattern of being evasive and defensive. I only found out later that a chaotic lifestyle is typical of ADHD.
By the time I arrived at the Process in 2008, I was a prime candidate for the Hoffman, although I didn't know it yet. I'd heard the Hoffman Process name in passing, and had a basic understanding that it was a week-long course that was meant to help people. I didn't have it in mind when I arrived at my counsellor's house that evening – but then, I wasn't to know what was to come.
Some therapeutic interventions are a result of well thought out, well-timed interpretations, or challenges which catch the client in exactly the right moment; where the stars align and the path from words to conscious thought to unconscious understanding is unobstructed. Some are total accidents.
I don't know which my counsellor was going for that evening when she turned to me and said "David, I can't help you" but I suspect neither she nor I could have known it would transpire to be a life-changing moment.
"I don't believe a word you've said. You sit here and you do this" she continued, mimicking how I sat with my arms crossed, my eyes darting all over the room. "You need something more intensive than seeing me once a week to break you down."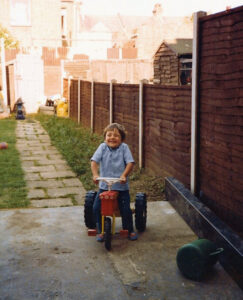 I'd somehow fallen into a ridiculous dynamic with my parents in which I exchanged attempts at trying to 'get better' with their tolerance of my behaviour, so my first thought was that I was going to need to find another therapist. But something about being 'broken down' resonated with me at a deeper level. "Should I try the Hoffman Process?" I asked as I was being hurried out of the room.
"Have a look" she replied. "You'll know if it's for you."
And I did. I signed up for the Hoffman Process, taking the place of a cancellation just a couple of months later.
Many people's Hoffman stories start at the beginning of the Process, but mine began with my journey to the venue. I got there late and feeling quite anxious only to find I'd arrived at the administration building and was actually meant to be nearly 40 miles in the other direction.
By the time I arrived at the suitably idyllic Florence House, the group had begun to settle in. As I burst into the room full of anxious energy and adrenaline, clearly unaware of the very delicate atmosphere into which I was entering, my (now very) late arrival and poorly judged brashness only served to successfully 'other' me all over again.
I knew things were going to be different soon after, because in those days you were given a name you were addressed by on the course – and I was awarded a name based on the rather petulant paperwork I'd completed prior to the Process – 'Closed Box'.
I have a term for it now, and I say it with clients often. My carefully constructed coping persona was clear to the course facilitators. I was being 'seen'. I remember being absolutely terrified.
Day two, was a pivotal moment. We wrote our inherited negative family patterns on cards and bashed them with a bat. As the group around me cried and released years of pent up frustration in deep cathartic release, I had a moment where I almost stepped outside of myself. Feeling overwhelming resistance to even trying to take part, I left the room, escaping to the garden. I stood dramatically staring off into the distance. Time passed. Afternoon gave way to a markedly cooler early evening and I began to have a stand-off with myself. One half of me wanted to go back inside, collect my things, and go home. The other wanted to stay, asking 'if not now, when?'
Some part of me, however small, wanted to stay and fight.
I stood there feeling increasingly cold, and slightly ridiculous, when a marvellous man called Simon Matthews, one of the group facilitators, approached me and handed me a card. On it was written a sabotaging pattern I had identified earlier – a response I often felt under stress. I remember reading it, feeling both terrified and relieved in the same moment, and knowing 'all this' was over. Not the Process, but the version of myself I'd created using the disparate parts I'd collected and internalised and cack-handedly cobbled together.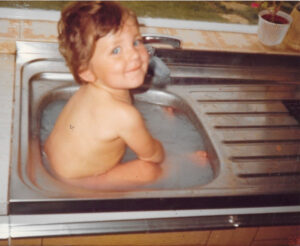 It said 'I want to go home'.
I went back inside and decided to 'give it a go'. What happened next was not life-changing nor can I point to any single exercise or tool which fundamentally changed my world. What I discovered instead was a previously unknown enthusiasm for possibility. The space left by the absence of my resentment and anger and confusion was instead filled with a new feeling, one I decided I immediately wanted as much of as possible – gratitude.
The Process looks at the roots of thought and behaviours, and while 14 years on it's difficult to directly attribute my life today to that week in East Sussex, if I look at the 'why's' of what has come since, all roads seem to lead back to my week with Hoffman. If there was a graph of my life, you'd notice a marked upward movement just as the bottom timeline reaches June 2008. My relationship with my family is better, and crucially, more authentic, rather than based on some sense of obligation or habit. My relationships got healthier, and I even married a wonderful woman. She convinced me to train as a counsellor, encouragement for which I am forever in her debt.
Through my training, I was exposed to therapy and the science of psychotherapy. Through that I found resonance with my own experiences and a deeper knowledge. That knowledge enabled me to step outside of myself and recognise symptoms which led to my diagnosis with ADHD at 42, a diagnosis which re-framed so much of my past and the medication for which has changed my life in ways I struggle to articulate.
The gratitude I found on the Hoffman Process has stayed with me. I'd been able to pursue a costly private ADHD diagnosis rather than wait for an NHS appointment. When I discovered that the national average wait time for an ADHD assessment is 18 months-2 years but in some areas can be as high as 4 years, I immediately wanted to find a way to help those in a less fortunate position than I. So I contacted ADHD UK, the largest UK ADHD charity, to ask about fundraising, and was instead invited to lead their monthly ADHD support groups.
I still think of the Process often. I think of the garden with its oddly-angled trees and the silent first day when you're asked to sit and reflect rather than distract yourself in conversation. I think of my fellow participants and the facilitators and the absolute joy and relief on everyone's faces at the end, all of us having been insulated from the outside world for a week to solely focus on ourselves. But mostly I think of 'I want to go home'.
And I realise I'm already there.
---
David's tips on living with ADHD
Own it. If you have ADHD, you have ADHD. Diverse should not read as abnormal, and you don't have to fit into your perceived typical world-view. Being someone with ADHD means you have strengths others don't and it more than compensates for the areas you find more challenging. ADHD people I have encountered come out the other side in a very Hoffman-esque way – grateful, generous, and eager to help others.
Planning, planning, and more planning. ADHD people have to do the practical work their brain cannot. We can't presume we'll just remember to do something or be somewhere, or remember what someone has told us. Tools such as to-do lists, diaries and reminders are invaluable.
Talk. I often tell clients "people only know what we tell them". The adjustments we need to make in our lives are likely to be necessary for others to make as well. The more we talk about our experiences, the more those around us can make proactive changes to help us. The more we foster an environment of discussion, the more we allow others to do the same.
Find your flock. The online ADHD community is an invaluable resource, full of tips and shared experiences. My work with the charity ADHD UK includes a couples support group, where relationships affected by one or both the people in a relationship can find like-minded, like-experienced people.
'Reasonable adjustments'. I'm constantly surprised at how few people know they have a legal right to ask their workplace to make adjustments to their job role following a diagnosis. This term can be widely applied at home and in our social lives, but most importantly – especially in the early days of diagnosis – to ourselves.
For more about David's work and ADHD support groups visit: https://n20counselling.co.uk or, for his specifc ADHD-specific counselling service visit www.adhdcounselling.uk
Twitter @adhdcounselling 
Instagram @adhdcounselling.uk
Our online introductory weekend, The Hoffman Essentials covers the core ideas and tools of the Process. If you suspect you have ADHD, and are hesitant about leaping into to the full seven-day Process, this course is a great place to start. Info and dates are here.
---