With Expert Comment from Career Coach, Rachel Brushfield
Many of us have moments when we get fed up with our work – but when what we used to love becomes a 'daily grind' and we can't wait for the weekend to arrive, it's time to do something about it. Life is too short to wish it away on a boring commute or in a job that doesn't allow you to expand and grow. Here are two stories of Hoffman Graduates, one of whom discovered creative gifts in amongst the family baggage and one who decided to 'stop existing and start living'.
Following My Heart In A Creative Business
Louise Wannier is CEO of TRUUdesigns, a fashion design company that allows mature women to express their unique styles with classic fashions. She has been recognised by Cambridge Who's Who for demonstrating dedication, leadership and excellence in business management. She did the Process in the UK in January 2010.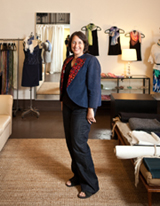 I've always enjoyed starting up businesses which I've done both in the USA and Europe, but in 2003, when I was diagnosed with cancer for the second time, I decided to follow my heart and do a course in textile design which I'd always loved but never pursued. It's an industry which my family has been involved with for generations. Although I never thought I was talented enough to do textile design myself, I realised that most fashion is aimed at a standard body shape, so I created Myshape which offered online shopping using your own measurements, so that you didn't have fit the standard models. This began very well and the normal buying conversion rate went up from 2% to 15% but in 2008 the recession hit and it was difficult to get the capital to keep going, which was crushing.
Time For Change
Around that time I read the US version of You Can Change Your Life called The Hoffman Process and was impressed by the approach. Two years later, when I'd hit a real low point work-wise, I realised that although I understood business, I didn't know who I was and that it was time to find out. Although I now live in the States I was born and brought up in England until I was 8 years old so I was advised to do the Process in the UK. I'm so very glad that I did, as it was much more evocative of my childhood and helped me to connect to that time more easily.
Learning to Listen to My Intuition
My big 'Aha' moment on the Process was realizing that I had an inner self, I always looked to others and didn't realize either how I felt or how to use my intuition. On the Process I found both my spirit and my inner voice. This impacted my work life enormously, so when I went on to set up Truudesigns it represented what I really wanted to do with my previous company, Myshape. With Myshape I'd tried to develop it according the conventional business model, whereas with TRUUdesigns I'm following what I myself believe in – filling in the fashion market for the mature woman. Currently only 40% of women fit the standard shapes offered by the fashion market, so 60% aren't served by mainstream fashion. The fact is that as we get older there is a wider variety of body shapes and women in the older age brackets tend to be more vibrant these days and want more choice in how they express their personality through their clothes. Most importantly at Truudesign I've finally allowed myself to express my own creativity and started offering my own designs.
Finding the Gifts in the Family Baggage
One of the outcomes of the Process was not only that I released unhelpful family baggage but I also recognised the gifts that my family had given me. In the early 1900's my grandfather came to the UK from Eastern Europe with nothing, yet he became a successful textile merchant. I'd like to think that I have inherited his resilience and that he'd be proud of where I've reached today. In the past I'd often let myself down, by staying silent or by not going in the direction I believed in. I didn't give as much weight to my inner voice as I do these days. I now listen to that inner guidance every day as well as doing a daily Buddhist meditation. Life still has its ups and downs but I deal with it very differently and I use the Hoffman techniques regularly. I have a much better understanding of myself and I'm much less stressed. Healthwise I'm more active and I've lost weight. I've survived cancer twice and I've just done my third charity bike ride for the Genesis Trust
Photo courtesy of www.nathanieltaylorphotography.com
Finding Creativity and Purpose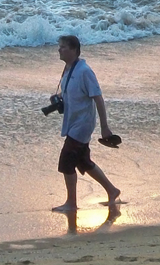 Will Black, a former farmer, is now a photographer with a constantly expanding vision. He did the Process in 2009.
'I did the Process because I was fed up. Call it a mid-life crisis if you will – I found myself at funerals of people I knew who had died in their 30's and it made me realise that life can be much shorter than you think. I grew up in the family business – a farm started by my great grandfather who came down to Suffolk from Scotland, so from a young age I always knew what I was going to do and for many years I really loved being a farmer. However, over the past five years there has been so much more red tape and the administrative staff has grown enormously, so I found myself a pen-pusher rather than in an outdoor role, which is my real love.
When I was younger I got my thrills in my spare time from motor-racing and acrobatic flying but in recent years my relationship wasn't going well and in the end I felt I was just existing in a mundane routine, feeling there must be more to life than this: life is for living not just existing, so I signed up to the Process in 2009, which was an amazing experience.
What Changed – Finding The Missing Piece
When you do the Process you're asked not make any radical changes for six months afterwards so I bided my time. Meanwhile I noticed the changes which were very obvious to both myself and my family and friends. I was brought up in the whole 'stiff upper lip' British tradition, but after the Process I opened up and now I no longer care what other people think. I'm me and I don't want to shut down again, so I'm sharing my real self. I met some fantastic people on the Process and I've kept up with many of them, who have inspired me with their own experiences. I also have much deeper and more meaningful relationships. Looking back after doing the Process I realise there was a central issue that I was avoiding – something was missing in my life. During the Process I found a renewed interest and connection to nature which also became a way for me to connect to a spiritual side to my life –this was the 'missing piece' that I hadn't known how to find.
Less is More – Finding A New Direction
I used to fill my diary up to year ahead but now I live for the moment and I'm much more spontaneous. How do you measure success? For me it's no longer with money. My wants and needs have changed since the Process – less is more. Six months after the Process I decided to end my marriage and took a year's sabbatical from work. My family were very sceptical at first but when they saw the positive changes in me they understood my decision. I traveled around India and Africa, deepening my love of photography. I'd go out with friends and when they saw my photographs they couldn't believe we'd been on the same trip, as we seem to have seen quite different things – details would leap out at me, asking to be captured. I'd had a camera since I was a child and my father and grandparents had been enthusiastic photographers but for me it's now growing from a hobby into something I want to share more widely.
You can see examples of Will's work and contact him through his Facebook page here
Rachel Brushfield – Executive and Career Coach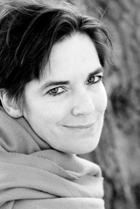 Rachel is a career coach with over 20 years' experience, specialising in career development, marketing, networking, personal branding and smarter self-management. She did the Process in 2000.
'The Hoffman course helped me to define a vision for my work and my life, and showed me how to get out of my own way. I have since moved to the Cotswolds from London and reinvented my own career, initially retraining as an NLP coach then specialising in helping professionals to change career. I now help people to uncover their ideal career and support them to overcome actual and perceived blocks and market themselves to make their vision happen.
Work takes up a huge amount of our lives and many people fall into their career or hate their job which is such a shame. Like Hoffman, I only work with people who are serious about change and who are ready to commit to it. I use a structured approach, which is creative and spiritual, yet practical. Sometimes my clients have been stuck for 10 years before they get in touch, finally fed up of feeling fed up. My youngest client is 18 and the oldest is 60. It's never too late to create the life you want or change career. The first step is to decide what you want and take action.
Many people use their energy and creativity to resist change and keep busy, ignoring their innate instincts and wisdom about what they really want to do. Life is too short and the Hoffman course gives people time and space and a catalyst to focus on creating the change they seek with professional experts.
Rachel coaches in person and on the phone. Visit: www.liberateyourtalent.com
Interviews with Nikki Wyatt