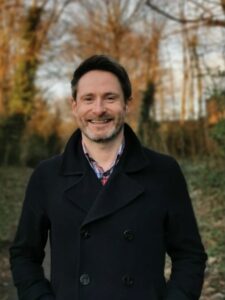 My dad left our mum before I was born, so I grew up with my twin sister, older brother and mother. As a child, every year my mother would ask us if we wanted to send our father a birthday card and every year I refused. There was a door in my heart marked 'dad,' but I was determined not to open it and allow in the feelings of abandonment, anger and pain.
As an adult, I distracted myself with holidays, partying, escaping into podcasts, TV, films and a string of short term relationships. But behind the shiny exterior, I was lost and isolated. As the years passed my twin married and had her first child which also birthed a desire to get in touch with our father, who was married with a new family. I agreed to join her so we went to meet him together. Synchronistically, I was 28 by then – the same age my father had been when he'd left us. My sister seemed to find it easier to talk to him, whereas I was quite stiff and formal and simply couldn't bring myself to call him dad. To his credit he didn't ask me to, and gave me all the space and time I needed to find my own way to him.
The turning point came when I was on the cusp of turning 39. The boss I was working for had been bullying me for 4 years. True to form, even though I knew there was an issue, I was able to close another door on the feelings and deny they existed. Finally, one unforgettable week when I was verbally threatened, reprimanded in front of a key client and humiliated in front of my team, I broke inside. By the end of the week I was walking deliriously around London at 3am overwhelmed by emotional pain and struggling to make sense of it all.
Looking back, I realise that unresolved feelings from childhood had never gone away and I had a choice to make – continue to bury the pain or start trying to understand it. After five years there, I decided to leave my job and take some time out. I'd already come across Hoffman through various podcasts so this felt the perfect time to open those doors and find out what was behind them.
It was whilst I was on yet another lads holiday, this time in Vietnam, that I received the email from Hoffman accepting me on an earlier Process than I'd originally booked. I was over the moon. A few weeks later I received my pre-course work; a rather daunting exercise covering my current situation, background and insight into childhood patterns that had impacted my adult life.
I panicked. I'd always struggled to remember details of my early life and, as so much of the pre-course work focussed on childhood, I viewed this as a big problem. After multiple calls to Hoffman, I followed their advice and went for a long walk. This brought clarity and an acceptance that I wouldn't be able to do this on my own – I needed to speak to my family. This was awkward, as up to this point my plan to attend the Process was a secret. The word 'failure' had been popping into my head for some time, but I'd kept ignoring it. I felt embarrassed that at the age of 39, I was enrolling on a 'self-help' course, while so many of my contemporaries had already settled down with children.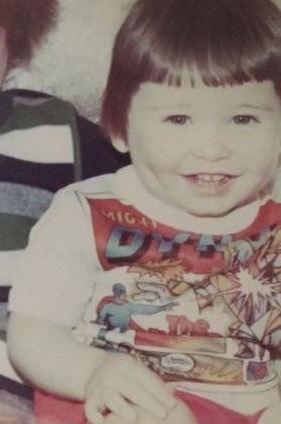 Eventually I bit the bullet and reached out to my twin sister. I explained what the Process was about and that I was struggling to recall all but a few childhood memories. She helped me remember some key moments. She even dug out photos of me when I was a child. This was an incredibly bonding experience for us and gave me the confidence to tell my mum I was going on the Process. My first lesson: showing vulnerability and reaching out, made what I thought was an immensely difficult task, an easier one.
Before I knew it, I was on my way. And it's safe to say I was terrified. Other than a short online CBT course and 6 sessions of talking therapy through the NHS in the year leading up to the Process, I was completely new to this personal development journey. On the drive down to the venue at Florence House in Sussex I vividly recall the feeling of numbness. I was choosing not to think too much about what I was embarking on – my usual self-defence pattern.
After putting off my arrival for a good hour by wandering around Seaford, I nervously checked in. I was welcomed, handed in my phone and was shown upstairs to my bedroom. Once I met our facilitators and my fellow students the urge to play the class clown in the hope that every stranger in the room would like me, was massive – a pattern that had followed me all my life. But from day one I felt comfortable enough to step away from that role and allow the real Alan to speak.
So began the most important and life-changing week I've ever had. I'd love to go into detail about the course content, but that would ruin the surprise and lessen the impact of what the Process can achieve. However gruelling it is, and believe me, it goes there, there are two main takeaways for me. Firstly, is the feeling of showing vulnerability by safely sharing my emotions. An entry in my diary that week reads: "showing vulnerability is better than any high I've ever had in my life. I'm genuinely happy". I've been lucky enough to travel the world, climb mountains – but this had always been behind the façade of a mask and playing a character. Hoffman was a stripped down and real version of me. The second takeaway was learning to see my parents as humans, who were also children themselves once, which led to a greater understanding of how they developed their own patterns in life.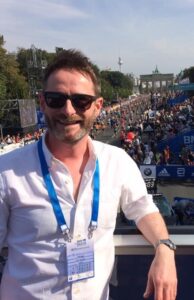 After the Process, I booked into a local B&B for a couple of nights to avoid getting back to the hustle and bustle of my normal life too soon. It also allowed me to adjust after being in the safe and secluded bubble that the Process had provided for the past 7 days.
That first evening I took myself up onto the Seaford cliffs to watch the sunset without the accompaniment of earphones or racing thoughts – the only external input was nature. It was a beautiful, calm and peaceful experience that I'll always treasure. Hoffman Graduates often speak of colours being more vivid and sounds crisper straight after the Process, and this is exactly what I experienced on that stunning summer's night. Even though I was alone, it wasn't a lonely experience. It was the beginning of a new adventure.
Since then I can clearly chart a Before and After Hoffman point in my life. Doing the Process wasn't an overnight fix, but it planted the seed and set me on a new path to self-care and love. It also gave me the gift of wanting to embrace and confront my past.
Once I got home I called my father and asked if we could meet on our own, as I had questions for him about the break up with my mum. It was the first time I'd arranged to meet him without the buffer of my sister and I was aware of taking a step towards greater independence.
Two weeks later we met for a long walk and he said: 'Alan, ask me anything'. I asked all the questions that had been in my heart for so long and our honest exchange finally opened the door I'd closed so long ago. I was able to use the word 'dad' that had always stuck in my throat. Somehow by accepting him I also accepted myself as an independent adult.
Since then we've had many deep and revealing face to face conversations, paving the way for forgiveness and a blossoming late-in-life relationship. I regularly visit him with my sister and her children for family holidays. I can now also track the impact that my dad's absence had on my adult life. The desperation for approval, even when it came in the guise of a bullying boss. Synchronistically I even had closure there too, as the company contacted me to say that he'd been let go and they'd love to have me back.
The bond with my mum has also strengthened as I'm far more able to access my emotions and speak openly with her about the past. It's resulted in a deeper love and respect for her and greater appreciation for her struggles in raising three kids alone.
Thanks to Hoffman, I've opened myself up to the benefits of caring for my mental health and speak with a therapist once a month, that a fellow Graduate recommended. The Hoffman community offers constant support and I've done lots of their online and in-person refresher events.
The tools we learned on the Process are hugely helpful and have finally broken a pattern I identified that week. Everything I did before then had been with a short-term lens. I had a problem putting down roots and felt really unsettled when I moved up North. Now I've been able to commit to being here, I'm so much happier. I've got a new life in Manchester with a wider circle of friends, putting to bed the old feelings of isolation.
And now when I get an email or a card from my father he signs himself 'dad'.
---
Thank you to Alan and his family for agreeing to share this Process Story. You can find more stories from Hoffman graduates here