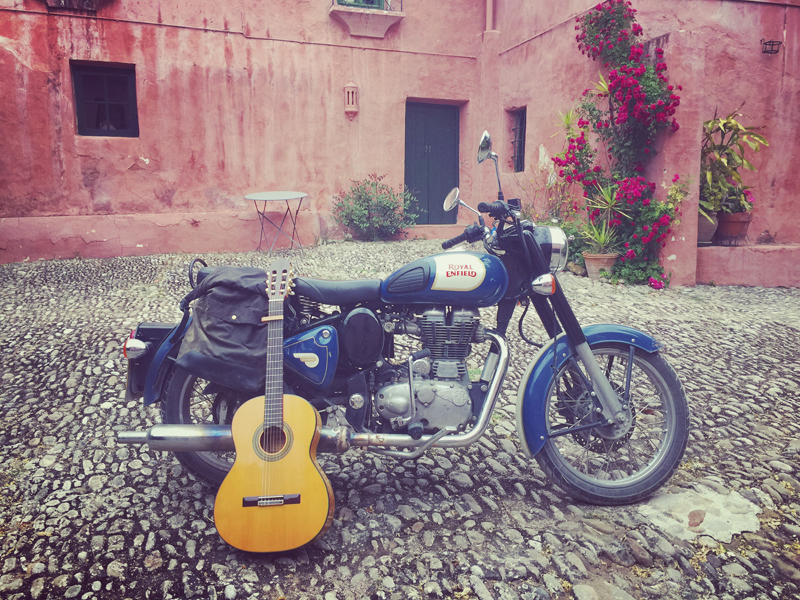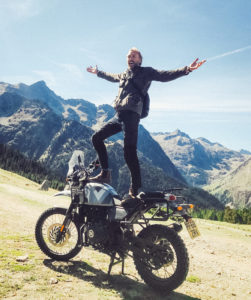 In 2014, my wife and I took our kids out of school and disappeared into the wilds. This escape was a necessity. We had begun to experience a creeping disconnect from one another, with an increase of Wi-Fi, screens and fast-paced modern living, in all its plugged-in, dialled-in ways.
The space away provided a very cathartic, powerful time, which deepened our individual perspectives and connection to ourselves, to nature and to each other.
Off the back of this experience, I created an adventure travel business that's all about slowing down, connecting to wilderness and gently pushing our boundaries. Over the last few years, I have tailored several expeditions through some of the most breathtaking regions of Europe and Africa. We travel by classic Royal Enfield motorcycle, offering a Zen-like viewpoint for our clients.
During this time, I have become increasingly interested in the correlation between the actual physical journey and the emotional journey. How when we ride into new lands and unfamiliar territories, we also open up the possibility of internal exploration and understanding.
Perhaps we are riding through the high Atlas ranges of Morocco and after all the contrast in topography, elevation and feelings, we come together, round the campfire at the edge of the Sahara. In the warmth and cradle of the golden dunes, in the glow of the fire, the darkness of night, with stretched smiles and eyes alight, we naturally open up conversation and touching reflection.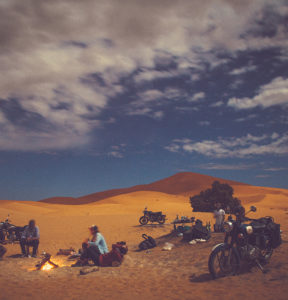 This moment round the evening's fire draws on something wonderfully unmet by modern life. It is a feeling of kinship, of community, a tribal instinct and necessity, the primal sharing of the day's vicissitudes. We experience the elation of having challenged our limits and perhaps rekindled a forgotten spirit connection to our surroundings and self.
I suppose we offer something of the hero's journey. Pushing limits, sometimes close to tears, moving through the vastness of space, how small we can feel by contrast. This can be quite a revelation, especially for those who aren't typically open to introspection. We have pushed boundaries & discovered untapped strengths. The mask drops and we touch on fresh vulnerabilities. We glimpse another path, a right road, an opportunity to change.
I experienced something very similar when I undertook the Hoffman Process last October. The Process takes the voyager on a journey, reaching beyond the old ideas and patterns, the routine if you will, that has kept us both safe and sheltered, but also trapped and imprisoned.
I believe if we are brave enough to take this journey, to dive deep in exploration of our wilder places, then our connection to ourselves and to other, will increasingly align, resulting in a more sustainable, peaceful and ultimately loving state.
By jumping out of the box and away from the familiar, a new world opens – and it's one that has the capacity to heal everything.
---
Sam is contantly looking to open and expand his concept of wilderness connection and is interested to hear from anyone who may be interested in joining the journey. Find out more by searching Legendary Motorcycle Adventures or visiting www.lma.life