I was born in the 1960s in Kingston, Jamaica. My mother is Jamaican biracial and my father is white British. My older sister and I blended into the melting pot of the island, but when I was 3 years old we moved to Barbados, which was considered a safer place to live. Barbados was known as less racially inclusive though, and I unconsciously picked up the belief of being an outsider.
My father was often away for long periods on business. He suffered from anxiety and was prone to extreme outbursts of anger. I believe this was due to PTSD (Post Traumatic Stress Disorder) – a wartime legacy – but it was difficult to understand and frightening to watch as a child. He was often conflicted – moving in quite wealthy circles but a socialist at heart, highly educated but working class – and he hated the English class system. As my father's company paid school fees though, I was sent to join my older sister at a girl's boarding school in the UK when I was 11. It was the last of its kind – very strict and single sex. We had to line up and curtsy to the headmistress before bed. The English class system was alive and well – and again I did not quite know where I belonged.
Years passed, with university, work and travel. If you'd have asked me about my childhood, I'd have said I was lucky – everything was good.
At the age of 27 I met my husband Neil and we had three daughters via IVF. The first two were non-identical twins and the third, Arianne, was born mentally and physically disabled. Now 20, she doesn't walk or talk and needs 24 hour care. In between the children I had a miscarriage and an ectopic pregnancy and I had some counselling which seemed to consist of me crying a lot but not learning or understanding myself and situation in any depth. It was sticking plaster therapy which wasn't even sticking very well.
Neil worked long hours in the City of London so I didn't see much of him but when Arianne was born everything changed. He left his City job for more flexible work and we tried living first in Barbados and then in the South of France before settling in Hampshire, where we built a house that was designed to accommodate Arianne's needs.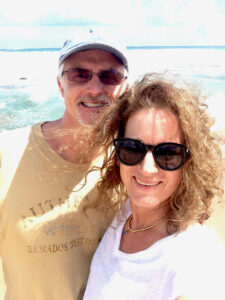 There were some fun times, but these were very stressful years overall, with little sense of roots or stability. It took a toll on our marriage and Neil and I realised we had to do something. We read about the Process and Neil agreed to go on it in July 2018. I could see the change in him even as he started on the pre-course work and he began to make connections between his current life and his childhood. When he came back he was a changed man – so much happier, more connected to his spiritual side and really committed to practising the Hoffman tools.
We continued going to an excellent Relate counsellor for a while and the more I saw the change in Neil, the more I thought about the Hoffman course – finally I signed up. I was still convinced that I'd had a happy childhood and the only current issues were due to external events in my life which were patently difficult for anyone. However, as I filled out the pre-course work I realised that my father's mental health issues, my relationship with colour, class and my parents were an issue for me and were deeply embedded. Everything plainly wasn't fine, so – although I was aware of my resistance – I began to ask myself what damage I'd unknowingly done to my own children. I knew I needed to do the Process.
When I arrived at the venue, my pattern of rebelling against authority made me very defensive. Once I trusted in the journey and gave it my all, it was magical and transformative – I cried a river. So much came up for healing and I gained a huge amount of self-awareness.
While I dealt with a lot over the week there was more to come after I left. The unexpressed anger I'd been holding onto made itself felt as depression. With my old coping mechanisms gone, I ended up on antidepressants. Using the tools I'd learnt on the Process I was strong enough to come off them after 8 months. I did EMDR (Eye Movement Desensitisation and Reprocessing) therapy which was brilliant and I practised regular meditation and mindfulness. I became more aware of the judgemental voices in my head criticising myself and others and felt able to put down healthier boundaries and maintain better self-care. It had taken time but I was in a better place than I'd been since I was a very young child.
Neil and I now have a common vocabulary around our feelings and we're more able to express ourselves without doing so in a blaming way. We trigger each other less and can even laugh at our triggers. We often practice the Hoffman tools together. I realised that the focus wasn't about healing our marriage, but about healing ourselves.
Since doing the Process, Neil and I have been on the French Retreat run by a Hoffman facilitator, which took our awareness to an even deeper level and I did a 6 month Hoffman course called Living Your Process that enabled me to make the vision I saw for myself on the Process a reality.
I now see all the challenges I've faced as opportunities for growth, as are all those to come. Both my parents have developed dementia, but instead of flattening me, it's strengthening my self awareness. There's a point on the Process when you connect with the children that your parents once were and now I'm doing that quite literally. My father, who never mentioned love when I was a child, now regularly tells me he loves me with all the uninhibitedness of a child. Any anger that I felt towards him has dissolved.
After the Process I trained as a life coach and absolutely love it. Longer term, I intend to set up a centre for courses, retreats, workshops and respite care. The land for it in East Hampshire is already sorted, with outbuildings which we're in the process of converting.
My attitude to life now is very different. The constant conflicting thoughts and internal dialogue that used to endlessly chatter and judge are hardly there. They're not completely gone, but I notice them and I know how to quiet them. I'm more present and the sense of not belonging is so occasional that it's not even worth mentioning. I'm happier than I've ever been and I'm proud of myself and Neil for the work we have put in for ourselves and our marriage. I'm so thankful for the Hoffman course – I've come back home to me – where I always belonged.
---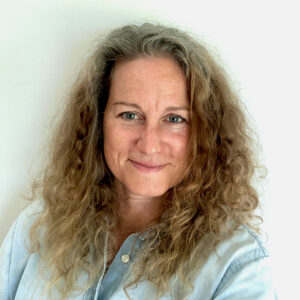 Fiona's top tips to find a sense of belonging:
Know yourself – be clear about your own identity, understand what makes you tick, what's unique about you and what motivates you.
Challenge your beliefs – are they true? Where does the feeling of not belonging stem from?
Truly accept and love yourself in your totality
Don't expect to be 'happy' all the time – everything passes
Belonging is a feeling – so learn to belong in yourself and then you belong anywhere and everywhere.
Practical tools:
Get yourself some type of talking therapy!
Read/listen to self-help audio/podcasts such as Brené Brown, Eckhart Tolle and Michael Singer
Do self-help exercises like composing a list of values or researching the Japanese concept of Ikigai (roughly 'life purpose') and how to identify yours
Ask yourself questions that you'd ask a person you love such as: 'You may feel you don't belong, but is it true intellectually?' Write a list of where you do belong.
Learn to meditate and use your breath – read Breath: The New Science of a Lost Art by James Nestor
Get out there and find your tribe! Volunteer, move, challenge yourself with different activities mentally and physically
---
To find out more about Fiona's coaching practice visit:positivefuturescoaching.com/coach/fiona-blackley
instagram.com/positivefuturescoaching
Facebook.com/PositiveFuturesCoaching