You Can Change Your Life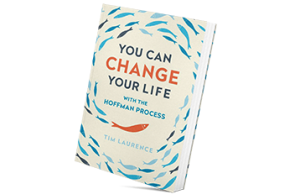 Order the revised book using the Add to Cart button below. Payment is by card or paypal – suitable for UK orders only. Please click here if your delivery address is outside the UK.
Our Price: £9.99
YOU CAN CHANGE YOUR LIFE
–  by Tim Laurence
Tim, co-founder of Hoffman UK, trained and worked extensively with Bob Hoffman. This book is inspired by the Hoffman Process. The book is packed with moving personal stories and raises your awareness of your patterns through exercises – it really can help change your life.
The programme in this book is the finest and most complete expression of what healing and spirituality are all about. If it was the only book available on psychospiritual transformation, it would be enough. Tim has done a superb job by describing the steps that you need to take.
– Joan Borysenko, co-founder Harvard Mind-Body Clinic, author of Fire in the Soul
 All proceeds from Book and CD sales go to the Hoffman Bursary Fund, helping those less financially able to do the Hoffman Process
Click the links below to buy 'You Can Change Your Life' in other languages.
Inspirational reading by Hoffman graduates









Heart-warming insights and observations on love.

Why we're becoming
ever richer and ever unhappier
The Hidden Power of Your True Self!

Improve your Mental Health and Mood










Insights into the role of relationships in personal growth

A journey through multiple personality disorder
A great guide to looking after your Physical Self!

The Origins of Parenting Styles










A Spiritually Guided Life - Alignment, Discernment, Action

An Integrated approach to Mind Body health from the founder of The British College of Integrated Medicine

The influence of our formative years

Tips on living with change and loving it








Dealing with Death and Bereavement

Nutrition to help your wellbeing




By psychotherapist Malcolm Stern

A war-torn love story










A Feminine Approach to Doing Business

Soul Purpose Cards




Dealing with mid life for men and women

A journey to emotional health










Divorce as a catalyst for an extraordinary life

How to work with Universal Laws

Healing the Shame that binds you

Inspiring stories of inner strength









Why we've had enough of 'stuff' and need to prioritise experience

How poetry helped Rachel Kelly overcome depression

How to connect your heart to your head in work and life

A radical new way to reset your child's emotional thermostat









What happens when you give yourself permission to live your life fully

The description of Jessica's journey through difficulties in conceiving a child

Magical poems which honour spirituality and friendship

How to go from burnout to recovery - from fried to revived