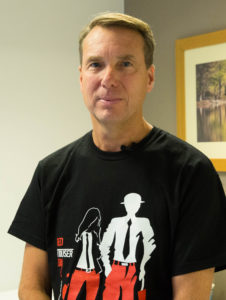 I did the Process in January 2011 following a major life crisis and separation from my wife. The course transformed my world, and, among other things, resulted in a new job.
I took on the role as CEO of a failing technology business which I successfully turned around and sold in 2016.  I used many of the Hoffman tools to help understand my team and change the culture within the business. Now I spend more time looking at people's points of view through their lens, not mine.
Having developed greater emotional intelligence I was also far more able to manage tough negotiations, with much less conflict. This in turn delivered a successful outcome, securing a return for all investors.
While I was in this role, in 2014, I was also diagnosed with stage four bowel cancer and given a 10% chance of making five years. I put the cancer diagnosis down to the tremendous stress of my marriage collapse and the trauma that came with it.
I'm very pleased to say that I've just received my five year all-clear and I always say that it was the Hoffman Process that gave me the tools and strength to take on such a difficult personal health condition and come out the other side.
My give-back is the creation of a charity called Red Trouser Day, which has raised over £120k in three years. It's supporting research for earlier diagnosis at the Royal Marsden as well as providing support for mental wellbeing during treatment.
My partner Julia has now been on the Process too, which allows us to communicate at a much higher level, and more recently one of my sons has also done the course. This has improved our relationship no end and I've seen a transformation in him as he's developed his job into a highly successful career.
So I thank Hoffman for saving my life emotionally, physically and spiritually.
---
For more information about Paul's charity, Red Trouser Day,
click here