Interview with Musician and Runner

Music teacher Erica Wilson grew up in a tense atmosphere which led to habitual anxiety in adulthood. In 2003 she did the Process hoping to find the serenity and joy that she yearned for. With her new-found confidence she then discovered an unexpected passion for running. She recently ran the 2013 London marathon aged 66 years and a half:) and is still reaping the benefits of her Process experience.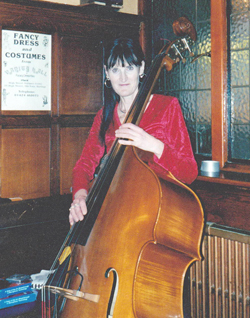 'I spent my childhood walking on eggshells. There was a lot of potentially explosive anger in the atmosphere which undermined my confidence and gave me recurring nightmares. Once I left home at 18 I no longer felt threatened but certain words would still act as triggers so that I'd feel fear quite viscerally in my body. It was as though the legacy of my childhood was eating away inside me and in the end it was worth facing anything to get rid of it.
I tried therapy after my marriage broke up and my GP referred me for an hour a week but in some ways it made me feel worse because the therapist only had a limited amount of time. I was aware of the clock on his desk, and each session I'd have to psyche myself up to discuss a painful event and then, just as we were getting somewhere, we'd have to stop.
Part of me felt that my childhood wasn't anywhere near as difficult as some other peoples. I felt so ashamed about what I saw as my inability to deal with it that it was hard to talk about it. I lived on a knife-edge of fear, so when I read an article about the Hoffman Process in the Sunday Times it really spoke to me. The cost of it was beyond me at the time though, so it went onto my wish list.
Deciding I Was Worth It
Finally in 2003, after careful financial planning, I committed and enrolled onto the Process. Given my patterns of anxiety, my Hoffman teacher, Mary, rang me before the course. She was so supportive and genuinely interested in me that I began to feel excited instead – I couldn't wait to meet her. I felt so well looked after during the enrolment procedure and in the run up to the course that I was actually pretty calm. The staff were all so reassuring. Goodness knows when the teachers got any sleep! Once I got to the course it was such a relief to leave the outside world behind and to begin to purge myself of all the toxic beliefs and patterns that I'd lived with for so long.
The Process was certainly very different from counselling. The most difficult part for me was bashing cushions, although it was also the exercise which ultimately benefitted me the most. As a child I was so controlled. I'd learned not to show emotion in case I triggered my father's anger. With the teachers help I got over my inhibitions and the amount of anger that finally came pouring out initially scared me. However it was such a safe environment that I remember crying and releasing all the stuff I had wanted to express as a child. By the end I was exhausted yet purged; so much lighter and freer.
Highs and Lows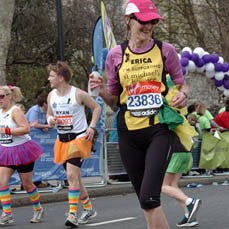 One aspect of the Process I liked was the fact that we were all anonymous. Apart from a brief comment about what brought you to the Process there was nothing that we were obliged to share. My only regret is not staying for the optional weekend afterwards. The feeling when it was over was so wonderful that I'd love to have enjoyed it for longer. Unfortunately I had to leave for a gig. Mind you, the rest of the band couldn't believe the new me – they thought I was 'on something'! They also noticed that I used to wear my hair over my face but after the course I pulled it back and faced the world more openly.
The initial euphoria lasted quite a while and even all these years later I still feel calmer and more able to keep things in perspective. I've stopped taking on other people's problems and find I have better boundaries and a healthier detachment. In the months following the course I felt able to extricate myself from the unhealthily controlling relationship that I was in. I find I'm no longer triggered by anger. I've developed skills to deal with it rather than adopting a passive role. The Process helped me to appreciate other people's positions so that I could understand their reactions. Most people simply want to be heard. Once they feel heard and acknowledged they calm down.
Long Term Changes – A Positive Outlook
I appreciated the course particularly in 2010 when my mother died and I was appointed to administer her estate. That task was very stressful because old family conflicts surfaced and without all that I'd learned on the Process I think I'd have gone under. I still keep the Process tools card by my bed as a reminder and I use the tools regularly, especially the brief check-in which I do quite often. As I live near the sea I also like the technique of writing things in the sand and then allowing the water to wash it away.
I've read a lot of the inspirational books featured on the Hoffman website and one of the pieces of music on the Process has become a favourite. I play or sing it whenever I want to relive the quiet, contemplative atmosphere that it always evokes.
I've realised that I need to find happiness for myself rather than looking for it in others. I find it so fulfilling taking an interest in others and watching them flourish. Even when people are grumpy I find if I take time to listen and connect they often cheer up. I make it a goal now to find the best in everyone I meet. One recent example is that I've been interviewing older people in my running club who may feel a bit invisible. As a result of telling their stories the rest of us have discovered amazing things they've achieved like Iron Man and Ultra Marathons and we appreciate them more.
Learning to Live in the Moment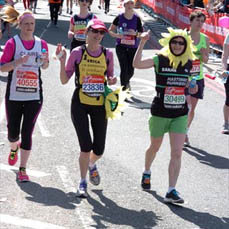 I'd never gone running before the Process, although I loved swimming and ice-skating when I was younger. Six months after the course, once I was single again, I joined a gym and enjoyed it so much I started going three times a week. Then, just before my 60th birthday, one of my friends asked me to train with him for the Hastings Half Marathon. After that I was hooked so I joined a running club which is a lovely community. I find I can't think of anything else when I'm running; I'm just living in the moment which is very therapeutic, plus the London Marathon and all Hastings half marathons that I've done are in aid of St Michael's Hospice in Hastings, so others benefit too.
Recently, in a burst of enthusiasm, I entered the 2013 London marathon, so through the record-breaking cold winter months of 2012/13 I ran a baseline of 13 miles per week. Two good friends did the very long training runs with me to offer encouragement. One lady in my club, who was faster than me, gave up the chance to put in a good personal time in the marathon to accompany me to the finish line. There were under 100 people in my vet 7 age group and I came in 60th in my group. Not bad for a first attempt!
The Process planted a seed of learning that I'm constantly cultivating, trying to build my skills. It was the best thing I ever did and I wish everyone would do it. I've just applied to do next year's London marathon – life continues to offer new opportunities for growth and now I have the confidence not just to face them but to run towards them!'
If you'd like to sponsor Erica on future marathons please email her to express your interest.
Interview by Nikki Wyatt