Born and brought up in a happily bohemian, artistic family in Perth, Australia, Libby Davy transitioned from being a consultant in stakeholder relations in her early 20s to her current life as a mother and community artist in Brighton, UK. On the way she's learned a great deal through personal experience about love, death and healing which has birthed her latest project called Metta Eggs; a novel way to let people know how much they are loved and appreciated at key moments in their lives, which is one of the core messages of the Hoffman Process.
Finding Out What Really Matters….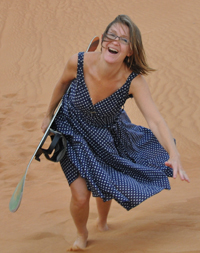 'I first came across the Hoffman Process in October 2009 when my husband Graeme did it. As soon as he got home after the course it was obvious that he'd made a massive leap forward. It was as though he'd done 2 years counselling in a week. He'd dropped the stories and projections that had caused issues in our relationship and we were able to be together as a couple in a much more authentic, loving way. He'd also formed some wonderful friendships on the course which are still flourishing today.
We spent the Christmas that followed in Australia and whilst I was there I realised that there were still childhood events and family patterns that I wanted to integrate too; patterns that I didn't want to pass on to our daughter, so I called and signed up to the Process myself.
Only 3 days after arriving back in the UK after Christmas my brother Gus called to tell me: "Mum's really, really sick. She's got tumours right through her abdomen." Then he started to cry. I was on the next plane out of Gatwick and with our Mum – Jen – Nanny – within 24 hours. Over the next eight precious and profound weeks, I experienced mum in an entirely new way, and became very clear, yet again, about what truly mattered in life, and especially, at the end of life. "Love one another, it is as simple and as difficult as that," said the renowned Australian poet Michael Leunig. We were lucky we had time to say what we meant to each other, and to touch on forgiveness. Mum spoke to all the people that mattered in her life, enjoyed herself immensely, settled her affairs and began to let go. Eight weeks later she passed.
Self-development? Seen it – Done It – Bought the CD!
I had, of course, postponed doing the Process. The enrolment team advised me to wait at least 6 months after such a major bereavement, so I finally showed up at the course in October 2010. I was in tears of awe at the end of that week – at the people in the room, teachers and participants alike, and for the Process itself. I'm even considering training as a Process teacher when my daughter is older (if they will have me!)
Before I went in, I'd already done things like the Landmark Forum, Imago, meditation retreats, counselling and other personal and spiritual growth work. So I was pretty hard to "impress" if you like. Sort of been-there-done-that. But it reached me in ways I had only dreamed of. The fact that it includes the spiritual aspect of life makes it far more holistic, unlike the Forum for example. Yet there is no prescribed way for you to experience that, we each had our own sense of it.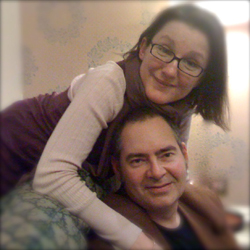 Most people in the room had never done anything like this before, and would probably have described themselves as not being "spiritual" or feeling particularly connected to a sense of wonder at the world. In fact that kind of talk can really put people off. But by the end, I saw boarding school survivors, GPs, City Men, builders and yes, even bolshie Australian know-it-alls living in connection like me, deeply knowing that, no matter what the question, the answer is…. love.
I do now feel very complete with my parents. There is also a lot more space and love opening up between my husband and I, since we have a shared experience of the Process. There are some lingering issues of course. It's not designed to be the 'magic bullet'. But what I say to people is 'bang for your buck' it really delivers, not to put too fine a point on it. I only wish it was available to everyone that was ready (and emotionally able) to do it!
Passing it Forward
One of the gifts of the Process is to help you to accept and appreciate yourself and your loved ones; to release old resentments and speak from the heart, particularly to your family. This chimed wonderfully well with my experiences with my parents and a creative idea which had been germinating since my mother's death began to take shape. As Mum and I had planned her funeral together, she said: "How wonderful it's going to be… but I won't be there." In that moment, it struck me as insane that people don't get to hear the heartfelt words spoken as eulogies. I'd wondered how to provide testimonies to people while they're still alive, in a way that would be easy to say and to hear.
I had already been experimenting with little clay eggs that held secret messages, enjoying the child-like wonder adults felt when given them to crack open and ponder. After Mum's funeral I gave hand painted wooden eggs to some of the women friends who had stood so strongly by us. In fact, I had long been obsessed with the potency of the Egg as a symbol and I wondered whether these two things might come together. Soon I made the first batch of what became known as "Metta Eggs" for a close friend's 40th birthday.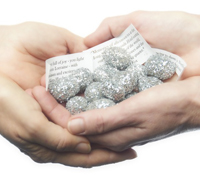 As a student of Buddhism, I had learned the Mettabhavana meditation, which helps us generate loving kindness for ourselves and potentially all beings. From this comes the word "Metta". Metta Eggs became the alchemy of all these elements – reaching out to the various chapters of my friend's life, from around the world, to collect messages to fill her heart, just as her own mother was also dying of cancer.
Metta Eggs has now developed into a box of 20-40 eggs, covered in wildflower seeds or sparkling glitter, nested within a hand-carved treasure chest, infused with essential oils, and with a scroll that explains who made it happen. We are currently talking to interfaith celebrants, cancer charities and hospices to help spread the word and fundraise on their behalf. We have also recently started producing metta eggs in Australia – the future looks exciting.
For more information about Libby's art and craft workshops and creative retreats visit www.egghouseart.com
Interview with Nikki Wyatt