Graduate Virtual Intensive: March 2021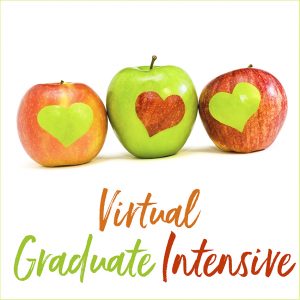 Dates: Friday 5 to Sunday 7 March 2021
Times: 9am-5pm (UK)
Led by: Tim Laurence and Emma Ferguson
Cost: £595
Open to all Hoffman graduates, the GVI meets you wherever you are today. It allows you to identify any challenges that continue to hold you back from what you want in life, and leads you forward in transforming them. Numbers are limited to allow for the creation of a sacred space, where we will work through old and new material in an intimate, supported environment.
"Incredible value for money. I think I would like to do it once a year or so – to remind me of the tools and benefits of Hoffman. So much can be gained from doing this with others and also so easy to do it from home." GVI participant, Hoffman UK

Like the Process itself, Graduate Virtual Intensive is a mixture of taught group sessions, expressive work, times of reflection and independent learning and sharing. Our sessions are spread over three days, with regular breaks away, and some short evening assignments (the 'intensive' doesn't refer to screen time!)
When you register, we will send you a short pre-course questionnaire as well as a list of items that you will be asked to prepare before the workshop starts.
'There was real magic in bringing Hoffman into my home and my spaces (like my local park). There was real significance in not thinking of Hoffman as something you do somewhere else.' GVI participant, Hoffman UK

'If you are thinking about doing the GVI course then just do it – a truly precious and worthwhile 3 days.' July 2020 participant

The practicalities
What you'll need
A laptop or computer with a stable internet connection, charger and headphones and a private, quiet space to work. We ask that confidentiality be a commitment agreed to by all participants, so it is important if you are at home that you make arrangements with the members of your household to honour your privacy, and not interrupt your workshop time. We will send you a full list of requirements, supplies and guidelines in advance, so you have time to prepare your environment.
Timings
Each day of the GVI will run from 9.00am until around 5.00pm, with regular breaks and time for a long lunch away from a screen. On Friday and Saturday, there will also be evening assignments to complete, each taking around an hour. Please plan to allow yourself the time and space to carry on with these assignments once we break for the day.
'There was a good balance of listening, participating, sharing, questioning, reflecting and plenty of breaks'. August 2020 participant

'The GVI was a surprisingly powerful and connected journey given that it is an online course. It was expertly and caringly conducted, and I felt very safe to relax into the experience with my fellow participants. It really fortified my connection to the Hoffman tools and allowed me to shed some grief and anguish that I've been dragging around. I'm so grateful to the facilitators, my fellow GVI participants, and the Hoffman community for their work and willingness to be vulnerable, open, and loving.' July 2020 participant
Cost and cancellation policies
For those who took advantage of the Early Bird offer on this event, Please note that deposits are non- refundable and your place on the course is not guaranteed until you have paid in full.
If you cancel on or after Friday 20 February,  £100 deposit will be lost and the balance will be transferred to another GVI in the future. A refund of the balance will only be made if your place can be filled. If you cancel on or after Friday 26 February, the full payment will be lost.
* If this event is on a wait list, and we have not received your balance payment by the deadlines above, we reserve the right to offer your place to someone on the wait list.
---
A note on confidentiality:
Confidentiality is important in this workshop so that all participants feel safe to be fully self-expressed and (if desired), to share their experiences. By registering for this workshop, you agree to not discuss any other participant's experience or anything that another person shares in a way in which that participant can in any way be identified. You also agree to not audio or video tape any portion of the session and, wherever possible, to keep your own camera switched on in order that we are all visible and present to each other. This helps to enhance trust and community.
---
GVI


March 5, 2021 - March 7, 2021




9:00 am - 5:00 pm