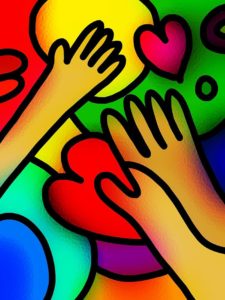 If you'd like to remind yourself of how the Hoffman tools can support you to make positive life changes or are facing a life challenge – at work, in relationships, with health, stress or self esteem – a Reconnection Day could be the answer.
What will you gain from a Reconnection Day?
Check in and rebalance your Quadrinity
Reconnect to your Spirit and develop simple, daily practices to maintain that connection
Refresh your use of the Process tools
Revisit the tools that can support you in your life and all of your relationships
Be reminded of your Process insights and reinforce your positive changes
Rekindle a sense of community
Refresh your vision, identifying and overcoming any blocks you may have in achieving it
Date: Saturday 5 December
Time: Arrive from 9.30am for a prompt 10am start. We'll finish by 5pm.
Cost: £120 per person or £200 for two Hoffman graduates attending together
Venue: The Artworkers' Guild, 6 Queen Square, London, WC1N 3AT
You're welcome to attend this workshop with friends, partners or family members (as long as they're Hoffman graduates too), wherever in the world you did your original Process.
---
Practicalities:
The day will feature two short refreshment breaks and a longer break for lunch, which is not provided. There are food shops within close range, or you are very welcome to bring a pre-prepared lunch with you.
Cancellation: If you book for this Reconnection Day and then are unable to attend, your fee can be transferred to another Hoffman UK course by letting us know in writing at any time before 27 November. If your cancellation takes place within 7 days of the start of the course or in the case of a 'no show', no part of the fee will be refundable or transferable.
London, Saturday 5 December


December 5, 2020




10:00 am - 5:00 pm