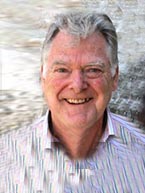 Perhaps your Process feels like a distant memory right now, but you'd like to remind yourself of how Hoffman tools can support you to make positive life changes. Or perhaps you're facing a life challenge – be it work, relationships, health, stress or self esteem – which you know will be supported through reconnecting to your Hoffman experience.
Reconnection Days are led by Hoffman facilitators and allow graduates to check back in with their Quadrinity and Vision, working through any current issues in their lives. Our first Reconnection Day of 2019 is led by Hoffman Supervising Facilitator Jeremy Kynaston (pictured), following a massively oversubscribed event in December.
What will I gain from a Reconnection Day?
* Check in and rebalance your Quadrinity.
* Reconnect to your Spirit and develop simple, daily practices to maintain that connection.
* Refresh your use of the Process tools.
* Revisit the tools that can support you in your life and all of your relationships.
* Remind you of your Process insights and reinforce your positive changes.
* Rekindle a sense of community.
* Refresh your vision, identifying and overcoming any blocks you may have to achieving it.
* Laugh, smile and have fun!
Date: Saturday 12 January 2019
Time: Arrive from 9.30am for a prompt 10am start. We aim to finish by 5pm.
Cost: £90 per person or come with a Hoffman Buddy at the special discounted rate of £160 for both of you.
Venue: The Welsh Chapel, 30 Beauchamp Rd. SW11 1PQ
If you're not able to make this Reconnection Day, the next is in March. For more information, click here
---
If you have any questions about this or any other Hoffman event, please email info@hoffmaninstitute.co.uk or call the office on +44(0) 1903 88 99 90
Reconnection Day: London, 12 January 2019


January 12, 2019




11:00 am - 6:00 pm
Venue Phone: 020 12 345 678
Venue Website: http://www.welshchapelclapham.com/home
Address:
30 Beauchamp Rd
,
Clapham
,
London
,
SW11 1PQ
,
United Kingdom
Description:

The Welsh Chapel is just up the hill from the Starbucks on St. John's Road.
Parking:
You cannot drive along St. John's Road and so must access Beauchamp Road from Lavender Hill via Ilminster Gardens.  There is limited on street parking on Saturday but there is also parking at nearby Asda (SW11 1JG).
By Train & Underground:
The Welsh Clapel is a 5 minute walk from Clapham Junction Rail station: Walk 100 yards down St. John's hill from the main entrance, turn right along St. John's Road, go along 50 yards and take the first left – Beauchamp Rd. There is a sign pointing up the hill for the "Welsh Chapel". The chapel is 100 yards up on the corner as the road turns left.
It is at least a 20 minute walk from Clapham Common tube station, but there are a number of buses (345, 35, 37) that go from there down to Clapham Junction.