Reconnection Days offer you the opportunity to revisit the Hoffman tools, meet up with other grads and reconnect to your Hoffman experience.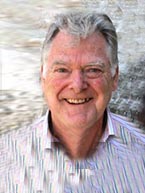 Perhaps your Process feels like a distant memory right now, but you wish to remind yourself of how the Hoffman tools can support you to make positive life changes. Or perhaps you're facing a life challenge, be it work, relationships, health, stress or self esteem, which you know will be supported through refreshing your Hoffman learning.
This workshop will be led by Supervising Hoffman Teacher Jeremy Kynaston (pictured) and will allow you to re-visit the tools and techniques, working through any current issues in your life. Come and connect and join in the group work as well as continuing your own journey. Wend your way home full of insights, inspiring visions, joy and light.
What you will gain from a Reconnection Day
* Check in and rebalance your Quadrinity.
* Reconnect to your Spirit and develop simple, daily practices to maintain that connection.
* Refresh your use of the Process tools.
* Revisit the tools that can support you in your life and all of your relationships.
* Remind you of your Process insights and reinforce your positive changes.
* Refresh your vision, identifying and overcoming any blocks you may have to achieving it.
* Laugh, smile and have some fun with other Hoffman Graduates!
Date: Saturday 26 May
Time: Arrive from 9.30am for a prompt 10am start. We aim to finish by 5pm.
Cost: €90 per person or you can invite a Hoffman Buddy at the special discounted rate of €160 for both of you.
Venue: Gorse Hill, Cliff Road, Windgates, Bray, Co. Wicklow, Ireland
Lunch: Bring lunch for yourself, and to share. There's a kitchen with a large fridge, and there are comfortable places to sit, both indoors and outside – the latter to enjoy the (hoped for) sunshine and the stunning sea views from the Greystones side of Bray Head.
For any further information about the venue or the day, please contact Jeremy on +353 1 820 4422.
Book your place using the Paypal form below – you do not need to have a Paypal account. If you would rather pay by bank transfer, please email Jeremy for bank details: jeremy@hoffmanireland.com
Reconnection Day: Ireland


May 26, 2018




10:00 am - 5:00 pm