We're sorry, but all tickets sales have ended because the event is expired.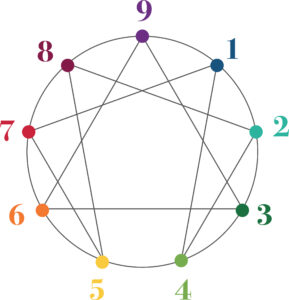 In the third of our three webinars Living with the Enneagram, Tim Laurence will be looking at the relationship and communication styles of The Competent Types (One, Three and Five).
We will cover how each Type sees the world and how they relate to others. Knowing yourself and understanding others will give far clearer communication as well as intimacy with those closest to you.
Hoffman's regard for the Spiritual Self or Essence, along with its thorough covering of behaviour patterns is an ideal match for the Enneagram.  What the Enneagram brings is a highly detailed map of both the patterns and the Essence underneath.
If you've ever thought:  "I just don't get why people don't behave reasonably like me' or 'I feel like such a misfit', these evenings will provide a load more answers.
Introducing the Competent Types
The One – The Reformer, seeking to improve the world around them, standing by their principles.
Pros:  systematic, organised, conscientious. Cons: perfectionistic, judgemental, underlying anger. Also known as the Perfectionist.
The Three – The Achiever, always on the go, getting things done.  
Pros: ambitious, goal-oriented, focused. Cons: overly image-oriented, superficial, vain.  Also known as the Performer
The Five – The Investigator, the analyst, observing the world from a distance, not in touch with feelings.
Pros: great at gathering knowledge, a logical overview. Cons: emotionally illiterate, may value ideas over people. Also known as the Observer.
Workshop details
Date: Tuesday 13 July
Time: 7.30am until 9pm (BST)
Cost: £15
Led by: Hoffman UK founder Tim Laurence
Platform: Zoom
---
A note on confidentiality:
Confidentiality is important in this workshop so that all participants feel safe to be fully self-expressed and (if desired), to share their experiences. By registering for this workshop, you agree to not discuss any other participant's experience or anything that another person shares in a way in which that participant can in any way be identified. You also agree to not audio or video tape any portion of the session and, wherever possible, to keep your own camera switched on in order that we are all visible and present to each other. This helps to enhance trust and community.
Living with the Enneagram: Part 3 - The Competent Types


July 13, 2021




7:30 pm - 9:00 pm