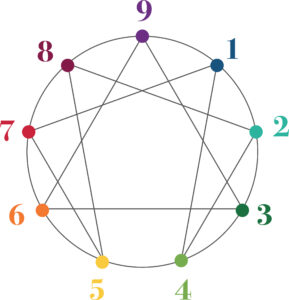 In the second of our three webinars Living with the Enneagram, Tim Laurence will be looking at the relationship and communication styles of The Positive Types (Two, Seven and Nine).
We will cover how each Type sees the world and how they relate to others. Knowing yourself and understanding others will give far clearer communication as well as intimacy with those closest to you.
Hoffman's regard for the Spiritual Self or Essence, along with its thorough covering of behaviour patterns is an ideal match for the Enneagram.  What the Enneagram brings is a highly detailed map of both the patterns and the Essence underneath.
If you've ever thought:  "I just don't get why people don't behave reasonably like me' or 'I feel like such a misfit', these evenings will provide a load more answers.
Introducing the Positive Types
The Two – The Helper, aware of and attentive to the needs of others, they seek to help.  
Pros: giving, self-sacrificing with big hearts. Cons: codependent, hidden pride, flatterers.  Also known as the Giver.
The Seven – The Adventurer, loading up on life's experiences. Also known as the Enthusiast or Epicure.
Pros: plenty of energy and ideas of how to get the most out of life Cons: may lose the present due to always planning, and not in touch with pain or loss.
The Nine – The Peacemaker, seeking harmony and calm, happy to go with the flow.  
Pros: easy to be around, agreeing with others' agendas and ideas.  Cons: can lose themselves by merging with others, deny any anger and dissociate from the flow of life. Also known as the Mediator.
Workshop details
Date: Tuesday 15 June
Time: 7.30am until 9pm (BST)
Cost: £15
Led by: Hoffman UK founder Tim Laurence
Platform: Zoom
Join us for Part 3 on The Competent Types (1, 3 & 5): Tuesday 13 July
---
A note on confidentiality:
Confidentiality is important in this workshop so that all participants feel safe to be fully self-expressed and (if desired), to share their experiences. By registering for this workshop, you agree to not discuss any other participant's experience or anything that another person shares in a way in which that participant can in any way be identified. You also agree to not audio or video tape any portion of the session and, wherever possible, to keep your own camera switched on in order that we are all visible and present to each other. This helps to enhance trust and community.
Living with the Enneagram: Part 2 - The Positive Types


June 15, 2021




7:30 pm - 9:00 pm