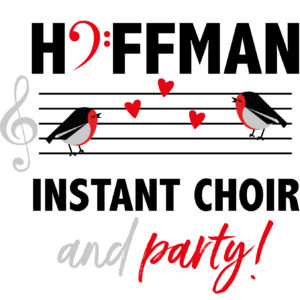 We're holding an extra-special Hoffman gathering in London on Saturday 8th December.
Hoffie grads, family and friends are invited to come and join us for an evening of fun and frivolity with a vaguely festive theme. There will be drinks and snacks, creative makes – and the chance to join the first outing of the Hoffman instant choir!
If you think you can't sing, don't let it put you off – you won't be put under a spotlight or asked to do anything you're not comfortable with. Under the gentle guidance of Hoffman grad, classical soprano and vocal coach Zoe Bonner, we'll all reach a place of harmony together.
Zoe says, 'There's a Zimbabwean proverb: If you can walk you can dance, if you can talk you can sing… We'll be learning simple, joyful and soulful songs together by ear and letting our playful and expressive selves take the lead.'
The venue is St Barnabas' Church, on the corner of Clapham Common and Lavender Gardens. You can find a map and directions here.
Arrive from 7.00pm, we start our first round of singing at 7.30 and finish at 10.00pm. There's a small kitchen and drinks and sandwiches and snacks will be provided, but you're welcome to bring your own if you have special dietary requirements. Family and friends are very welcome to come along.
Entry to the venue is on Lavender Gardens.
---
To book your place, use the Paypal link below, or call the office on (+44)1903 889 990.
If you feel like being a Hoffman angel and helping set up and/or clear away on the night, we'd be delighted to hear from you.
Email the office and let us know.
---
Travel Information
St Barnabas' is at the corner of Clapham Common North Side (A3/A205) and Lavender Gardens in London SW11/SW4 at the top of Battersea Rise. Enter via Lavender Gardens. The postcode of the church is SW4 9SW.
BY BUS
These buses go along Lavender Hill. Get off at Lavender Hill Police Station: 77, 87, 156, 345
These buses go along Clapham Common North Side and Battersea Rise. Get off at Eccles Road: 35, 37
These buses go to Clapham Junction: 39, 49, 150, 170, 219, 239, 295, 319, 337, 344, C3, G1
BY TUBE
Northern Line to CLAPHAM COMMON.
Take a 35 or 37 bus from the Tube entrance on Clapham Common South Side for the mile-long journey to Eccles Road at the top of Battersea Rise.
The route along Clapham Common West Side from CLAPHAM SOUTH is the same distance but no buses go this way.
BY TRAIN
CLAPHAM JUNCTION is a ten-minutes' walk away.
BY CAR
Pay and Display on-street parking in the side streets around the Church, Monday to Saturday, 8.30am to 6.30pm. Lavender Gardens, which runs up the west end of the church, is a one-way street entered from North Side. The church is outside the Congestion Charge area.
Please do not attempt to park in the church car park – they operate a no parking without permission policy. Even if a space may appear empty, several bays are privately rented whilst the others are in constant use by those who run the groups who hire the church through out the week.
Hoffman London Party


December 8, 2018




7:00 pm - 10:00 pm
Venue Phone: 020 7223 6750
Address:
Clapham Common Northside
,
Clapham
,
London
,
SW4 9SW