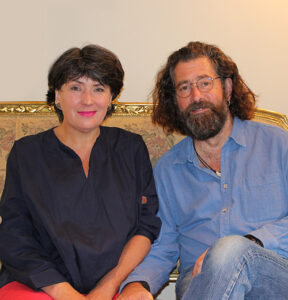 A two-day (5-6 February) workshop in London for people who are looking for a loving relationship. This workshop is presented by Hoffman UK and Matthew and Emma Pruen of The French Retreat (pictured).
About the course
Are you beginning to think that there's no-one out there that 'gets you'?
Do you find yourself falling in love or wasting time with the wrong people again and again?
Do you sit online looking at profiles and wondering why you're not finding your perfect match?
Have you just come out of a long relationship and are nervous about finding someone new?
Have you already given up hope that there is someone out there for you?
Looking for love can be a vulnerable and testing experience. Expectations – family, social, and our own – can conspire to spin us into a vicious cycle of shame-beliefs, fears and repeating negative patterns. But it doesn't have to be this way. By examining and challenging those patterns in a compassionate light, we can improve our understanding of why we make the choices we do, and break through to a future in tune with our heart's truest desires.
Matthew and Emma Pruen have drawn from over 20 combined years of Hoffman Process facilitating and relationship coaching (Matthew) and self-esteem coaching and shamanic work (Emma), as well as other wisdom traditions, to design this intense, experiential, two-day course. The intention is to harness the alchemy of a group of kindred spirits, all willing to be vulnerable together, and a powerful mix of tools and practices, to support real breakthrough in each participant's personal vision of loving relationship.
Who is the workshop for?
The workshop is open to any open-hearted, curious people. It is not necessary to have completed the Hoffman Process. All we ask is that participants come in a spirit of willingness to be vulnerable and honest with themselves and others in a confidential setting.
What the course will offer:
Learning how to optimise your chances of attracting and sustaining healthy love
Increasing your capacity for intimacy and commitment
Clarity on your relationship priorities
A range of tools for more effective understanding of self and others and healthy communication
New awareness on how the past affects the present
Creating a vision of the relationship you heart truly desires
Navigating the cycle all relationships go through and learning how to manage each stage well
Conquering negativity and cynicism
The practicalities
The course will take place over two days at a central London venue tbc.
Days will begin from 9.00am for a 9.30 start and each will finish at 5.00pm. The workshop is non-residential.
There will be short refreshment breaks and a longer break for lunch on each day. We do not provide lunch.
The workshop content spans two days; there is not the option just to do one day on its own. The cost for the workshop (both days) is £300 per person.
The fee for this workshop is non-transferable. Last-minute cancellations may be subject to an admin fee. Bookings cancelled within seven days of the start of the course will not be refunded.
To benefit fully from your workshop or retreat, please do make sure that the course you are booking reflects your current circumstance. Details of other Hoffman relationship workshops and retreats in London and France can be found here.
Matthew and Emma Pruen bring a combined experience of over 20 years of Hoffman Process facilitation and relationship coaching. Click the video below to hear them discuss what brings people to their relationship workshops.


---
Confidentiality notice: Please note that this event is held in conjunction with Matthew and Emma Pruen of the French Retreat. Any information you provide relating to the event, including pre-course work and post-retreat feedback, may be shared between the Hoffman UK office and French Retreat in order to facilitate your booking. If you have any concerns about this, please contact the Hoffman office on +44(0) 1903 88 99 90 or email info@hoffmaninstitute.co.uk
Hoffman relationship workshop with Matthew and Emma Pruen


February 5, 2022 - February 6, 2022




9:00 am - 5:00 pm