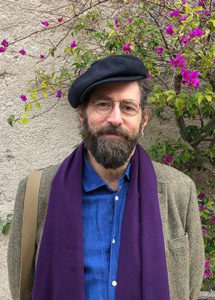 A two-day workshop in Beirut, presented by Supervising Hoffman facilitator Matthew Pruen (pictured) and Emma Macpherson of The French Retreat.
About the course
For most people, the primary template for our intimate relationships is the example provided by our parents. While this template remains unchallenged, what we witnessed them do (or not do) in their own relationship and the ways they related to others will influence our own relationship choices. So when we face relationship struggles in our own lives, we can often get a sense of 'Groundhog Day' and feel ill-equipped to deal with them…
Matthew Pruen has built on a decade of working with couples in one-to-one and group settings. He's also worked as a Hoffman facilitator since 2008. Emma Pruen is a self-esteem mentor and shamanic practitioner who did the Hoffman Process in 2001.
For this specially-developed Hoffman relationship workshop, Matthew and Emma will draw on their vast Hoffman experience, as well as a wider range of wisdom traditions, including the teachings of psychotherapist David Richo and Harville Hendrix's Imago Relationship Therapy.
Who is the workshop for?
The workshop is open to any open-hearted, curious people who would like to work on the way they approach connection in relationship. It is not necessary to have completed the Hoffman Process to attend. A large proportion of this workshop's content is experiential (rather than theoretical). It provides a unique opportunity to learn and grow by experiencing tools and practices, and sharing in a group setting. We ask is that participants come in a spirit of willingness to be vulnerable and honest with themselves and others in a confidential setting.
As well as individuals in search of a loving relationship, committed couples are welcome to attend together or individually. Couples seeking to part well will also gain from the experience. After all, the skills required to find respectful closure are the very same needed to create a healthy future together – communication, understanding and trust.
What the course will offer:
Learning how to optimise your chances of attracting and sustaining healthy love
Increasing your capacity for intimacy and commitment
Clarity on your relationship priorities
A range of tools for more effective understanding of self and others and healthy communication
New awareness on how the past affects the present
Creating a vision of the relationship you heart truly desires
Navigating the cycle all relationships go through and learning how to manage each stage well
Conquering negativity and cynicism
The practicalities
The course will take place over two days, at a venue tbc (Details will be emailed to all participants once confirmed)
Days will begin from 9.00am for a 9.30 start and each will finish at 5.00pm. The workshop is non-residential.
There will be short refreshment breaks and a longer break for lunch on each day. Hoffman will provide snacks and drinks, as well as various options for lunch. We appreciate that participants with special diets may still prefer to bring their own food, and/or there will be time during the morning break for you to order in a delivery if you'd prefer.
The workshop content spans two days; there is not the option just to do one day on its own. The cost for the workshop (both days) is £300 per person.
The fee for this workshop is non-transferable. Last-minute cancellations may be subject to an admin fee. Bookings cancelled within seven days of the start of the course will not be refunded.
A small workbook for the day will be provided. Please bring a notepad and pen.
If you have any questions about the day or would rather book over the phone, please call the office on +44(0) 1903 88 99 90
Details of other Hoffman relationship workshops and retreats can be found here.
If you're in Lebanon, you may be interested in our Information Evening on 26 March and/or our Hoffman graduate Reconnection Day on 25 March
---
Confidentiality notice: Please note that this event is held in conjunction with Matthew and Emma Pruen of the French Retreat. Any information you provide relating to the event, including pre-course work and post-retreat feedback, may be shared between the Hoffman UK office and French Retreat in order to facilitate your booking. If you have any concerns about this, please contact the Hoffman office on +44(0) 1903 88 99 90 or email info@hoffmaninstitute.co.uk
Hoffman relationship workshop with Matthew and Emma Pruen


April 4, 2020 - May 3, 2020




9:30 am - 5:00 pm
Venue Phone: +961 132 2902
Address:
Sassine Street
, Achrafieh,
Beirut
,
Lebanon